Thursday, 14. October 2021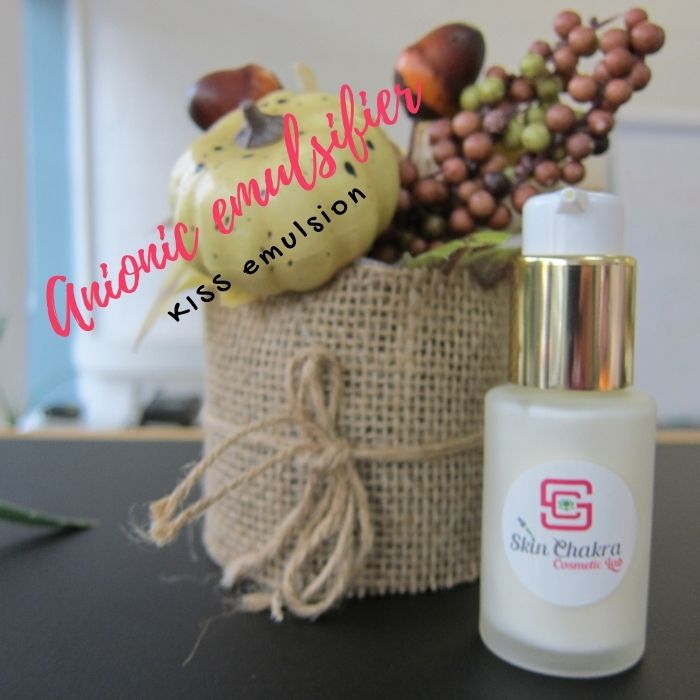 There are 1001 reasons one may choose and prefer one emulsifier over the other one and every formulation has its own requirements, boundaries and budget. There is no strict black and white when it comes to choosing an emulsifier and often must look into the grey zone to find the missing clue.
Basically ionic emulsifiers impart a better stability to the emulsions because the risk of coalescence and emulsion particles colliding and attaching together (this is one of the main paths of creaming and emulsion de-stabilisation) is much less than when working with nonionic emulsifiers.
On the other hand using ionic emulsifiers confines you to work only with other ingredients that either are non-ionic or have the same charge. This means when you work with an anionic emulsifier you are only confined to use nonionic or anionic co-emulsifiers, gums, preservatives etc and can not use a cationic ingredient.
Anyway since ionic emulsifiers seem a little bit intimidating we are sharing a KISS emulsion with one of our humble but extremely effective and easy to work with emulsifiers which is on top of everything else palm-oil free: GSC palm oil free (glyceryl stearate citrate) is a gem hidden among hundreds of "natural" and plant based emulsifiers and emulsifier blends with fanciful names.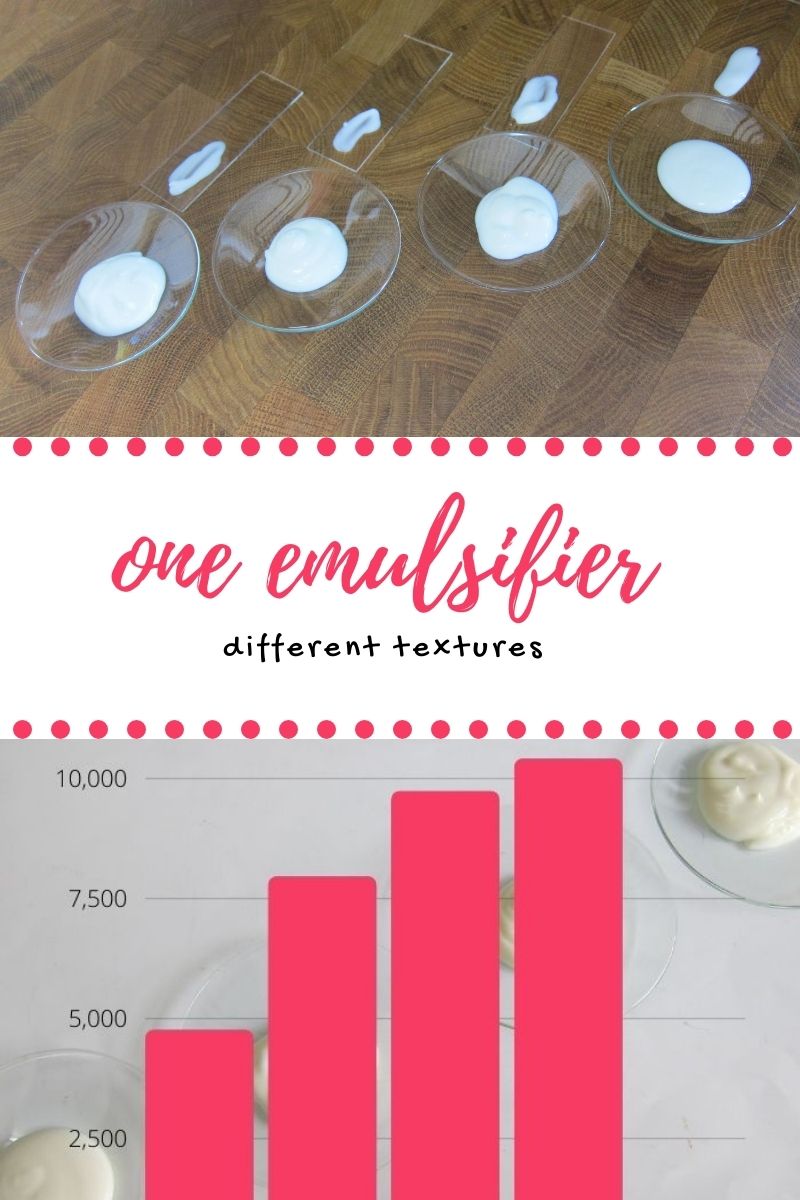 What you need to know when working with this emulsifier:
1- This is an anionic emulsifier and you ned to keep all other ingredients either nonionic or anionic
2- This is a hot-process emulsifier
3- The best oil range for the emulsifier is between 20-30% although it csan handle a broad range between 15-40%
4-It works well with polar and non-polar oils
5- It creates medium to medium-high viscosities. You can however modify the viscosity by varying gum blends and the oil phase content and concentration.
6- Most important: this emulsifier needs buffering. We Have published a detailed blog post about buffering in cosmetic formulations and are not going to repeat it here but just for a short explanation: the pH of the emulsion drops over time if the emulsion is not buffered. This can have an adverse effect on the physical and chemical as well as the microbial stability of the emulsion. To avoid the pH changes, we use 0,5% of sodium citrate in the water phase .
Before we proceed further, you can go back to this blog post from a couple of years ago when we have shown different aspects of this emulsifier in detail.
Today, we are making a KISS formulation with 20,00% oil phase and we have tried several gum combinations to slightly change the viscosity and the texture of the emulsions. All of these variations are stable. There is no absolute winner or looser among them. The choice only depends on the formulation concept and on the packaging. In the video we show you just one variation but the principle is the same for all of them.
Ingredients:
| | |
| --- | --- |
| Phase A | |
| Distilled or deionised water | to 100,0% |
| Natural chelator PA-3 | 0,1% |
| Sodium citrate | 0,5% |
| Aquaxyl | 2,0% |
| Phase B | |
| Gum | 0,4% |
| Phase C | |
| Emulsifiers GSC palm oil free | 5,0% |
| Tigernut oil | 20,0% |
| Tocopherol | 0,3% |
| Phase D | |
| Panthenol | 0,5% |
| Na-PCA | 2,0% |
| Phase E | |
| Cedarwood oil | 1,0% |
| No-kons PA20 | 1,0% |
| Lactic acid 80% | to adjust the pH |
Gum:
1- Solagum AX 0,4%
2- Solagum AX 0,3% + Tara gum 0,1% (this is what we show in the video)
3- Solagum AX 0,3%+ Amigum 0,1% (for this sample the gum dispersion was @40 C not the RT)
4- Solagum AX 0,3% + Konjac gum 0,1%
Procedure:
1- Blend phase A and C in two separate heat-proof beakers
2- Disperse and hydrate the gum @RT (except for sample 3 with amigum that the dispersion and hydration was @40 C)
3- Heat phase A+b and C in a water bath between 82-85 C
4- Stop heating and homogenize the oil phase in the water phase
5- Stop cooling down.
6- At a temperature <50 C add phase D
7- At a temperature <30 C add the essential oil and the preservative (Our pH was 6,43 before adding the preservative)
8- Prepare a 10% dilution and measure the pH. The preservative system we are using works independent of pH but for this emulsion we aim a pH range between 4,9-5,3
9- Add lactic acid if necesary to adjust the pH (our final pH was 5,28)
10- Take your stability and micro kit samples and fill the rest in a suitable container. The viscosity slightly increases within the next 24 hours.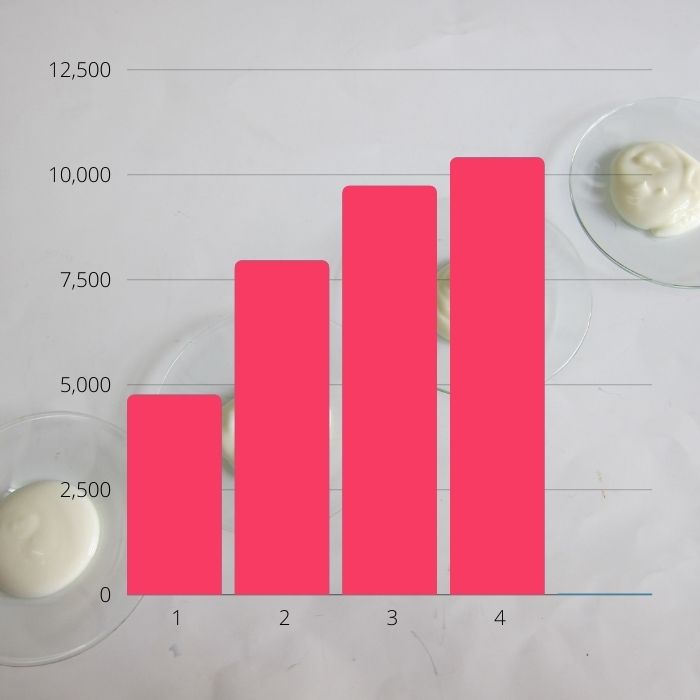 Sample comparison:
All samples are nice and smooth without any greasiness, tackiness or soapiness. The Solagum AX solo sample has the lowest viscosity. The solgaum AX+konjac sample has the highest viscosity and a gel-like texture.
Watch the video here
Stay safe and creative
Comments
Display comments as (
Linear
| Threaded)
The author does not allow comments to this entry