Sunday, 20. August 2017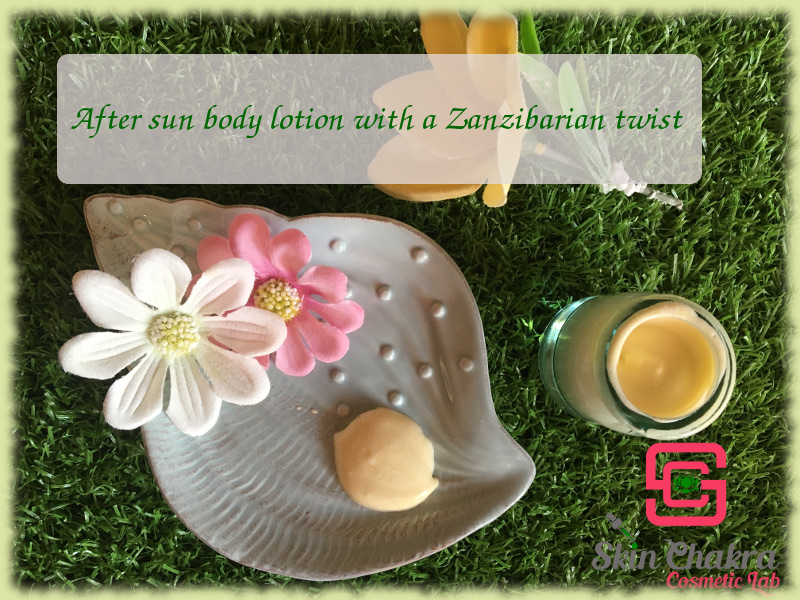 Today's post is from our lovely Jilly who has her own unique way of explaining what she does and why she does as she creates fabulous formulations and tutorials. We're enjoying the last days of an extremely long and hot summer and it is not yet too late to create an amazing after-sun product to pamper your skin after you've enjoyed summer holidays and outdoor activities.
Here you are with another Jillian tutorial.
Hello everyone,
I hope you are all enjoying the summer! It's a hot one if you are living in Europe, so SkinChakra's after sun series can be of very good use this year!
Check our previous after-sun tutorials here:
This time I created something that has written "Jilly" all over it: it has everything in it that I like working with, ingredients that are in sync with my skin and scents that I love the most. Bliss! Hopefully it can inspire you to create something lovely too .
Why Zanzibar?
Well, when I was a kid my dad worked and lived for a couple of years in East Africa. During the summer holidays my mum and me went over there too, and we were fortunate to experience African life before it all became invaded and overly crowded with tourists.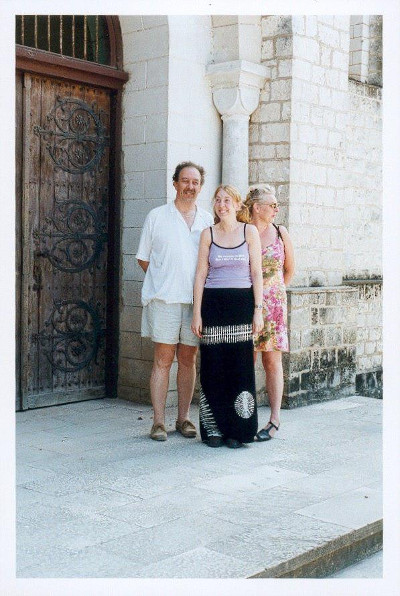 One of the most amazing places I ever visited was Zanzibar. For one, the islanders have a great sense of humour: the easiest way to get there is by boat, when boarding they hand over plastic bags for when you get seasick, and on these bags they have printed …. The Titanic …

. Hehe … We always stayed afloat, and we were lucky a couple of times because we saw humpback whales and dolphins swimming and jumping happily right next to our boat, showing off their magnificent beauty.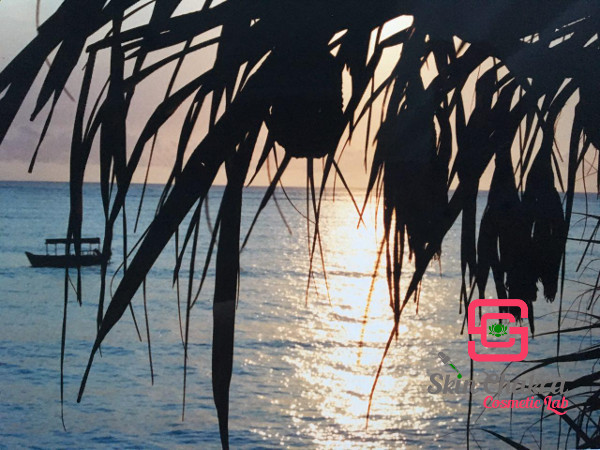 The island is filled with history and it is breathing the battle for freedom from top to bottom, making it almost a spiritual experience. The historic centre is well known for its astonishing wood crafted doors. Numerous plants, spices and herbs are dotted all around. It was the first time I encountered the wonderful soap nuts! And to top all of this, what stays with me the most are the scents. An intoxicating combination of sweetness, wood, coconut, warm spices, and the fairest flower of them all: ylang ylang. For more than 2,5 decades I have been searching high and low for an EO that resembles this delicate flower, totums, completes, … but it was always a disappointment. Up until now, because SkinChakra has found one that comes VERY close to the real flower! Long story short, the blend of scents that I concocted in the upcoming formula is able to transport me back again to the original Stone Town.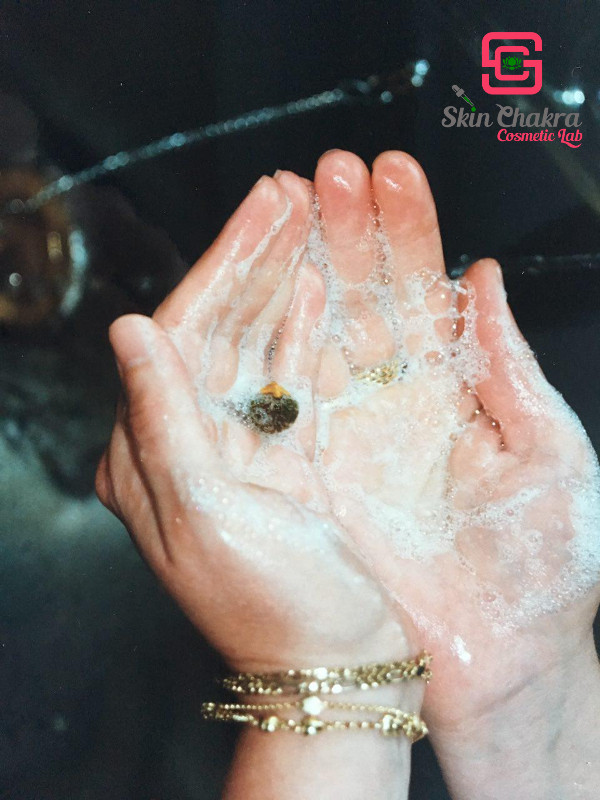 Okay, reality check, storytelling time is over

. Back to the formula!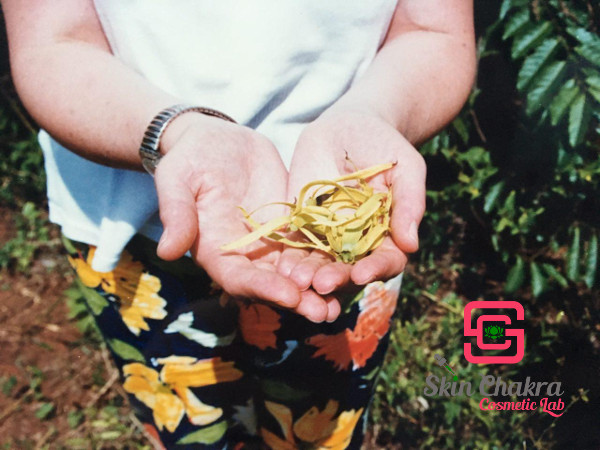 About the emulsifiers: I hope you have enjoyed the spray-able emulsion I have made last time with sucrose stearate as a stand alone emulsifier. Now I'll combine sucrose stearate with Plantasens HE20, this way the finished product is a body lotion suitable for a lotion pump bottle.
About the oils and extracts, these are all specifically chosen to:
protect your skin from the ageing effects of the sun

aid tanning

sooth mild sunburn

(re)moisturize
Before we come to the formula, I would like to add a side mark about the monoï de Tahiti (INCI gardenia tahitensis) I have used. Ideally you should look for a product where the flowers have been macerated in coconut oil. I truly love monoï, but when you want to purchase this you need to keep your eyes wide open! Very often the supplier adds a synthetic fragrance/perfume to the product to make the scent more powerful. Also, many use fractioned 'coconut' oil as a base for the maceration so the product is in a liquid state and more easy to use (here you can read why I prefer not to work with fractioned coconut oil
https://skinchakra.eu/blog/archives/506-Can-we-use-PEG-derivatives-in-natural-cosmetics.html).
A good sensory guideline is that the scent of monoï de Tahiti is really subtle (but recognizable) and certainly not overpowering.
The only solid advice I could give you is (like always) to check the complete INCI names for your ingredient.
And finally, here is our formula!:
Phase A
40% freshly boiled distilled water accustomed to room temperature
Phase B
6,5% monoï macerate in coconut oil
0,5% natural tocopherol
2% hypericum perforatum macerate in sunflower oil
2% carrot macerated in sunflower oil with rosemary extract
0,1% calendula CO2
0,1% chamomile CO2
0,25% organic ylang ylang essential oil
0,3% alpha-bisabolol
0,1% rosemary CO2
Phase C
5,55% neroli hydrosol
0,5% panthenol
0,5% aloe vera powder
2% plant based pentylene glycol
0,1% dermofeel PA3
Phase D
4% glycerine
0,4% solagum
0,1% sclerotium
Phase E
1% euxyl K903
Procedure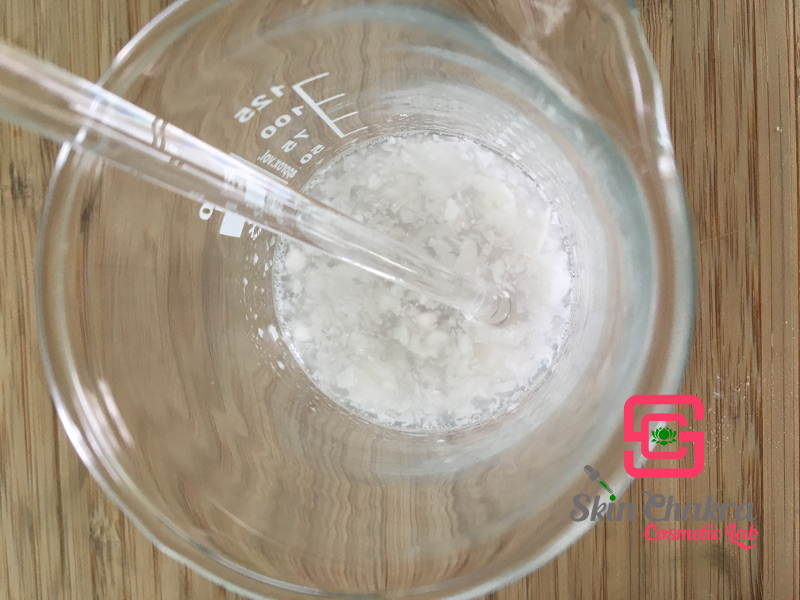 1- Start by preparing phase A: weigh the freshly boiled (and back accustomed to room temperature) distilled water, and blend in the sucrose stearate and Plantasens HE20. Leave this at room temperature for 1-2 hours; it will help the emulsifiers to swell.
2- Prepare phases B, C and D in 3 separate beakers.
Phase B: we know from other blog posts that our calendula and chamomile CO2 extracts are quite viscous and need a little bit of warmth to dissolve completely in our oil phase. Since we aren't over-heating everything (30°C is more than enough) and it is for a super short amount of time, it is okay to put all of our oil phase in one beaker and warm it up a teeny tiny bit.
As I made this emulsion, it was so hot in my lab that my monoi/coconut oil was completely liquid. If you prepare this emulsion in a colder lab, your coconut oil is probably solid but heating it at 30 degrees would be enough to bring it to a liquid state.

Phase C: if you have a magnetic stirrer, this is an excellent opportunity to use it! If not, it is also possible to blend it with a spatula of course . Here you can see the rest of our water phase with the aloe vera powder. Btw, you will notice in the next step that we are going to add this phase without heating! Yay, this is awesome news for our hydrosols!

Phase D: and of course our gum/glycerine blend to stabilize our emulsion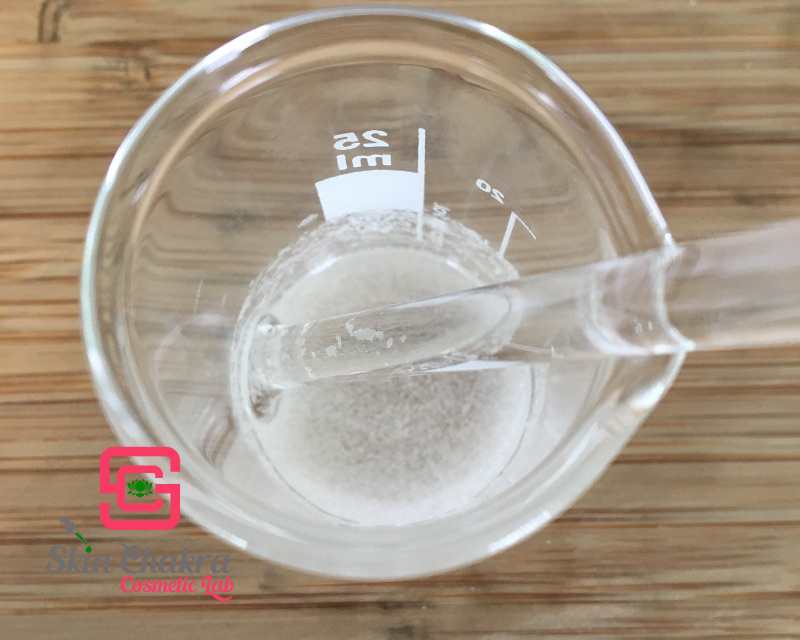 3- Our emulsifiers have swollen in our distilled water in the mean time and looks like this. Yeah, okay, I don't see much difference either

. However, I have noticed that the rest of the procedure goes more easily if I let this beaker stand for 2 hours ànd that the end product stays more stable in the long run (in comparison if you let the beaker stand for let's say only 15 minutes).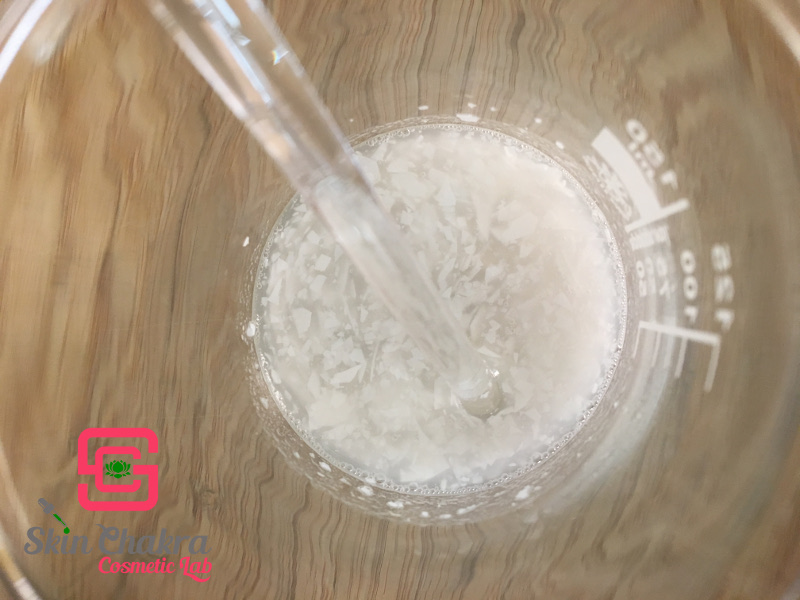 Heat this beaker in a water bath to 70-75°C. I have learned through lots of trials and horrors that Plantasens really really needs this high temperature. If it's 69°C, be sure it will be fluked. Around 73°C you will notice that the blend starts to change, it does not really melt, but is swells and turns into a milky jelly like texture.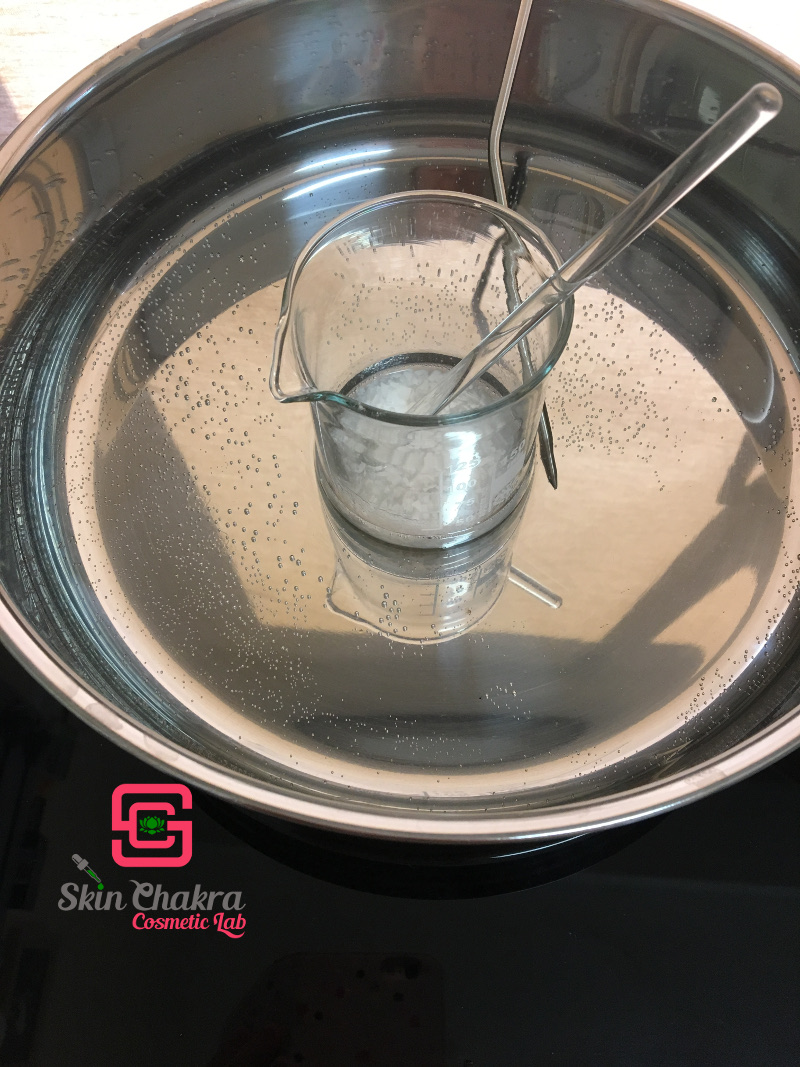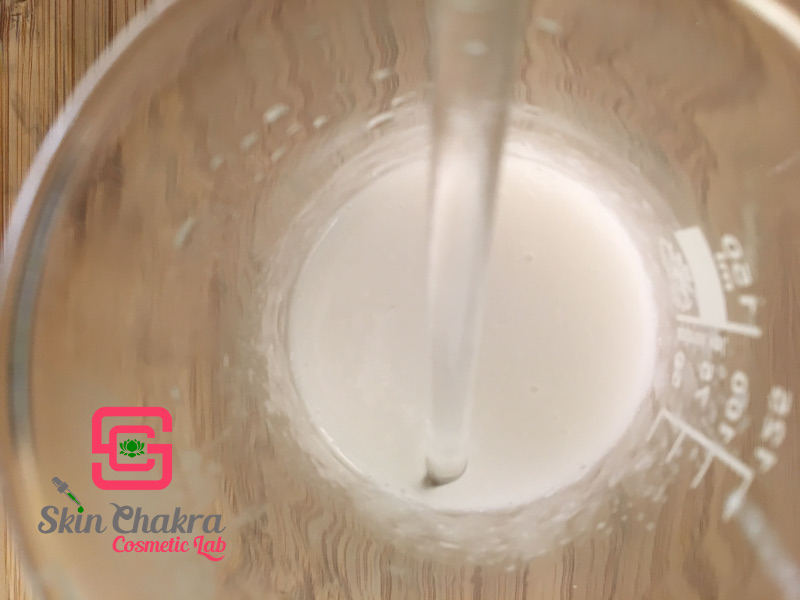 When the blend has reached this high temperature and the emulsifiers are completely swollen you can stop heating. Grab your Blendia and homogenize your blend with a few bursts. It will turn into a milky smooth pre-emulsion!

4- Now you can add phase C, the oil phase, which you have kept at room temperature, slowly and in small aliquots, keep stirring with your glass spatula.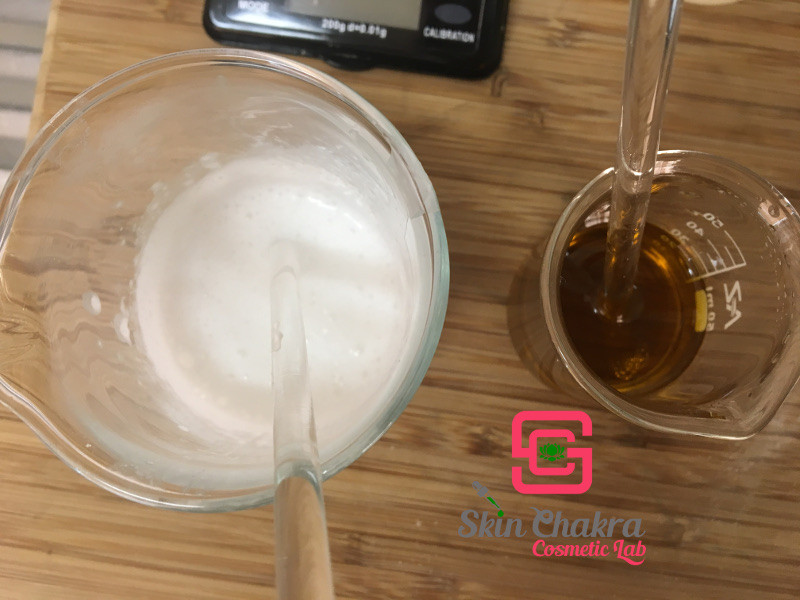 5-In the same way, add phase D, the rest of your water phase, which you have kept at room temperature too.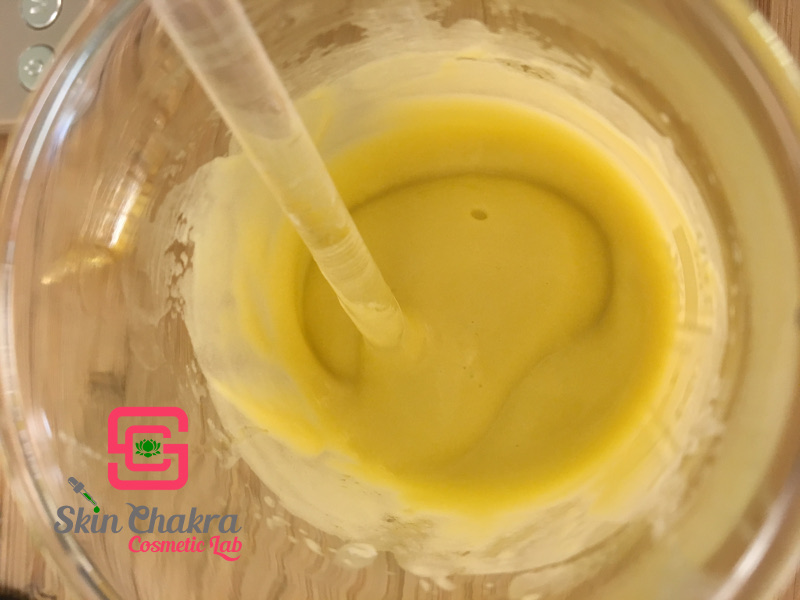 6- And add phase E to thicken and stabilize your emulsion. First a couple of stirs with a spatula. And to finish up, homogenize the entire a blend with your Blendia (for a 60g batch I did 2 times 1 minute). Look how gorgeous!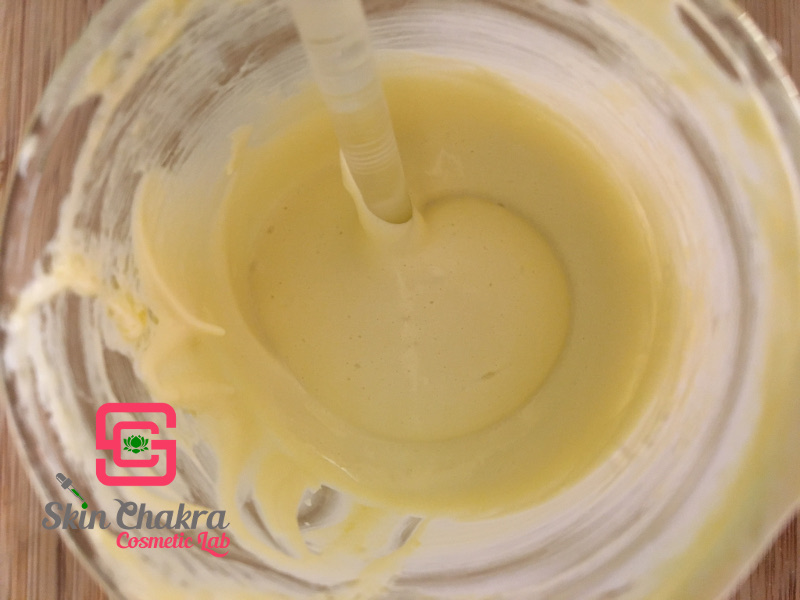 7- Make a 10% dilution to measure the pH. Mine was 5,65 so I added the preservative. Make another 10% dilution and measure the pH again. Mine was 4,87 so I added a couple of drops of sodium hydroxide and then the pH was 5,24 which is perfect!
8- Add your finished product in a lotion pump bottle!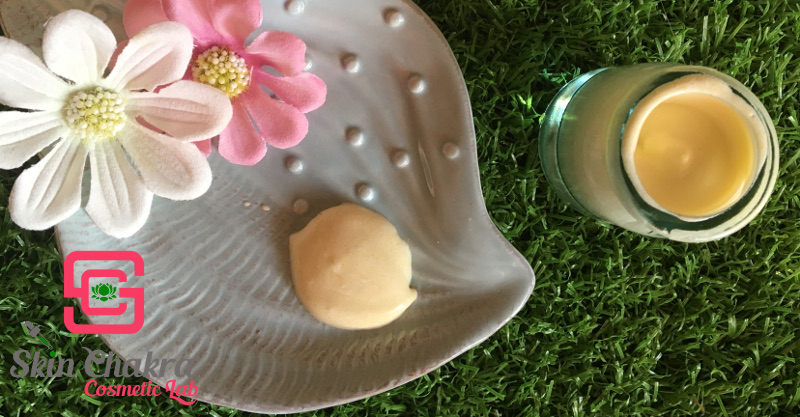 I really hope you have enjoyed this tutorial! It's formulated as an after sun product, but I have to admit, the scent is soooooooo amazingly good and the skin feel is so soft I actually use it as a daily body moisturizer

.
Be magical,
Jilly
Disclaimer: SkinChakra is responsible for the content of this blog post. Please send your comments and questions directly to SkinChakra and don't try to contact Jilly in private or via any other online forum/platform. Jilly or one of our team will happily come back to you.
Comments
Display comments as (
Linear
| Threaded)
The author does not allow comments to this entry