Sunday, 19. November 2017

Today's post is a guest post submitted by Chitra, a Formula Botanica graduate and the founder of Subtle Green in Canada. Chitra has changed her career to skincare business after 15 years of working as a software engineer (what an amazing twist!!)
Subtle green is one of our customers and Chitra has won our photo contest in August 2017 and as I asked her to share her formulation with our readers, she generously accepted to write a tutorial for her emulsion.
We always appreciate guest posts and tutorials. These are formulations created and tested outside our lab and even though some ingredients (like in this case) are not from our lab and are ingredients we usually do not use, they provide our readers with a deep knowledge about our ingredients and how you can use them as well as an objective judgement of the ingredients we use and seel.
Anyway, I pass the word to Chitra and I hope you'll enjoy this tutorial.
---
First, a note on the quest – Sensation
I wanted a soft cream with moderately high oil content (30%) that almost melts onto skin upon application. The challenge with many of the natural emulsifiers I tried was getting them to be soft, depressing quickly to the touch, without being too thick that needs to be scooped out. Most of them have thickening properties or are combined with thickening ingredients, eg. Glyceryl Stearate, Cetearyl alcohol, Sucrose stearate etc.
I wanted something with higher viscosity than a lotion, but with structure that would almost be mousse-like and soft. That's entirely possible with gums and low emulsifier percentages but a 30% oil phase can be a challenge. With many emulsifiers, I had to use a higher percentage for a higher oil phase but that made it creamier, thicker and rich to the touch.
The after feel of this cream also had to be silky, not sticky or rich like a shea butter cream. It had to feel light and velvety without spending too much time rubbing it in.
So that was the quest and I must have tried six (6) different emulsifiers and approved for natural cosmetics in that process. Sometimes I combined two of them. They were all lovely in their own way and rendered beautiful products. Yet, my search continued for the right sensation. Until I met plantasens HE 20…..
Second, the measurement
Viscosity and texture were the primary goals for a 30% oil phase of which 2% muru muru butter was important to me. Not having a viscometer at this time, I rely on observation with flow and feel at various times post cool down. I observed my cream upon cooldown, 24 hours later, 1 week later and 3 weeks after that at a temperature range of 22 deg C – 24 deg C.
At 3 weeks, my creams have reached their final viscosity and rarely changes much after that all else is done right.
Stability and preservative testing was conducted separately and not part of this story.
Third, the process
plantasens HE 20 is a great emulsifier to work with once you have the right process. It can be used in a two pot method, (heating it in the oil phase and adding it to water), or one pot method. The difference in two procedures was viscosity. When heating and adding it separately, the viscosity was a little higher with all other conditions kept constant.
The absolutely essential condition for the two-pot method to be ready for oil phase and homogenization is that the Plantasens flakes have to be fully dissolved – no grainy particles at all!
Heating Plantasens HE20 in water
So heat Plantasens HE 20 in 40-50% of your distilled water, and stir constantly until it is smooth. Back of hand testing came in handy. Since you're heating it to about 75-80 deg C, it can be a little hot to dribble a tiny drop on the back of your hand. But this will save you stability issues and many wasted experiments. I did this multiple times without success and finally read the pointer in Swetti's blog about graininess. It was an eye opener! I cannot stress this enough. It is very important to heat and stir until all the graininess is completely gone.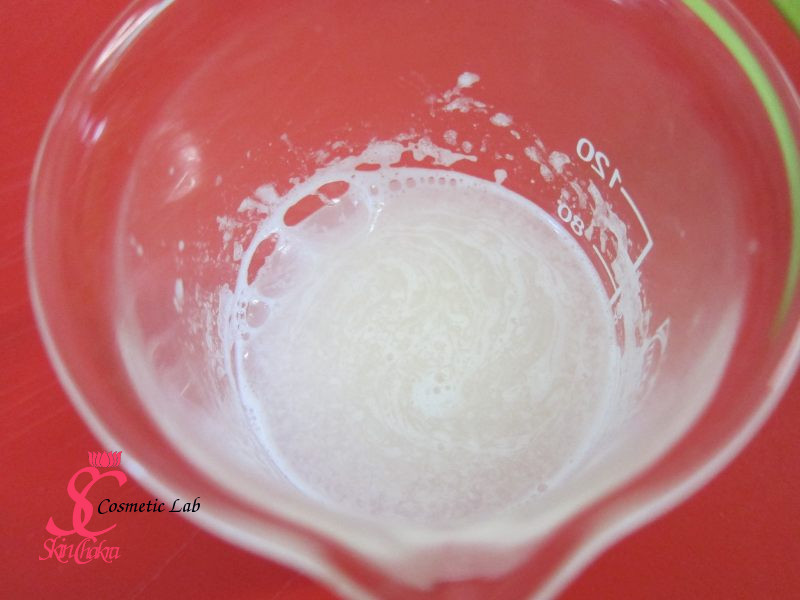 ---
Read our previous posts about Plantasen HE20 here:
---
You're only heating a portion of your water phase at this time to save the hydrosols and extracts for cooldown so they don't get heated to a point that it damages their nutrients.
Emulsification
I heated Plantasens in distilled water to about 75 Deg C and ensured that the graininess is gone, Then I added my oil phase and homogenized anywhere from 2-4 minutes with an ultra-thurax hand held homogenizer. Further I added gum (dispersed in glycerine) and homogenized for another minute.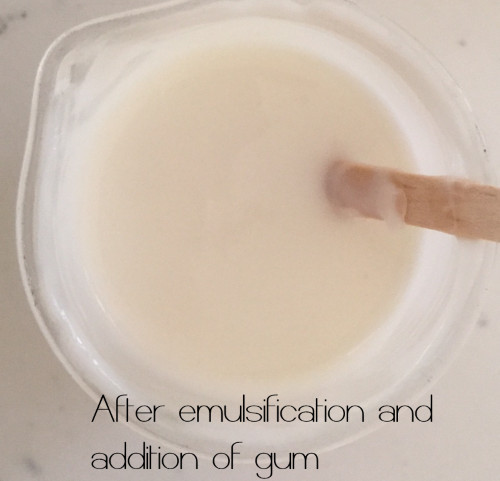 Preservatives and Heat Sensitive Ingredients
The emulsion is still hot at this time so I stirred until it was below 50 Deg C and then added my preservative and delicate ingredients (hydrosols, extracts and delicate oils). I adjust pH with citric acid and finish with 1% essential oils when the mixture is below 35 deg C.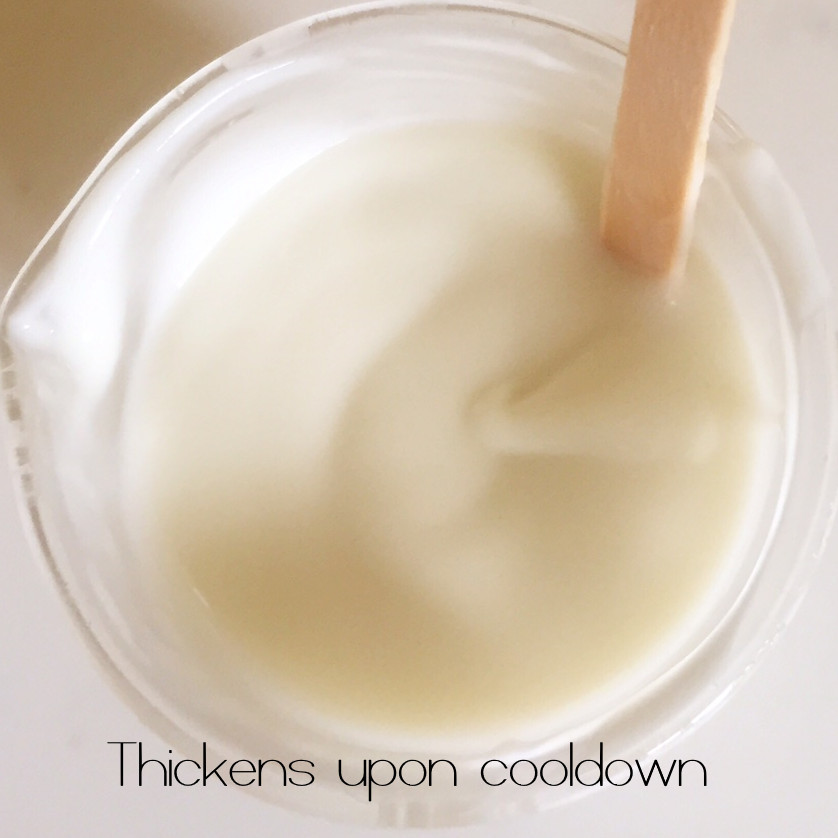 Formulation Tip
My tip for working with a new ingredient, especially a base ingredient like an emulsifier, gum, preservative etc, is to work with it until I get a base formula that works. A very simple formula that works and gives me what I'm looking for. Once I have this, I play by varying other aspects for a more sophisticated feel, function or effect. Here is my base formula with Plantasens HE 20 followed by some suggestions for changing it up.
Base Formula
Phase A
Distilled Water – up to 100%

Plantasens HE 20 – 6% (from Skinchakra)
Phase B (Butters and oils 1)
Fractionated Coconut Oil – 8%

Jojoba oil – 2%

Sunflower Seed oil – 8%

Muru Muru butter - 2%
Phase C (gum and Glycerine)
Sclerotium gum 0.2%

Xanthan gum – 0.1%
Phase D (Preservative)
Dermasoft Eco 1388 – 4% (from Skinchakra)

Versatil BL – 0.5%

Rose hydrosol – 1.5%

Citric acid – adjust pH to 5.1
Phase E (Heat sensitive)
Rose Hydrosol – 15%

Aloe powder 200:1– 0,5%

Green tea extract – 3%

Argan oil – 5%

Babasu – 1%

Cinamon oil – 1%

Strawberry seed oil – 2%

Essential oils (1% - Jasmine, Lavender and Orange Blossom)
Process Summary
Heat Phase A and B to 75%. Ensure no graininess in Phase A by stirring constantly

Add B to A under homogenization (~10,000 rpm for 3-4 minutes)

Add C to AB and homogenize another minute

Cooldown below 50 deg C and add Phase D

When under 35 degrees add phase E, homogenize < 1 minute

Add citric acid to adjust pH
Other enhancements to the basic formula
Can add Distarch phosphate at 0.75% for a lovely powdery/ silky feel

Can increase aloe percentage and change the oils/ extracts to be after sun like Cucmber extract, Cucumber seed oil, Rosehip seed oil, Sea buckthorn berry oil and essences of Chamomille, Lavender, Imortelle

Can Add Glyceryn Monostearate (GMS for organic use) to Phase B and lower butter percentage for a finer feel

Can replace gums described with other gums for slightly different spread ability (try solagum for example also available at Skinchakra)

Try different preservatives – I have 3-4 that I've purchased from Skinchakra and have used them all
---
This is quite a nice twist to our usual formulations. Chitra has used fractionated coconut oil (caprylic /capric triglycerides), an ingredient we never use and we don't sell but this is the freedom and the creativity of a formulator and we love to see what you do with our ingredients and how you blend them with other ingredients.
I hope you feel inspired by this formulation. Don't forget to send us photos of your formulations either per mail, per Facebook or tagging us on Instagram (@SkinChakra) if you post any photos of your creations with Plantasense HE20 or any other of our ingredients.
BeHappy and have fun
Comments
Display comments as (
Linear
| Threaded)
The author does not allow comments to this entry