Thursday, 13. September 2018
This guest blog post is written by Jilly, our amazing contributor.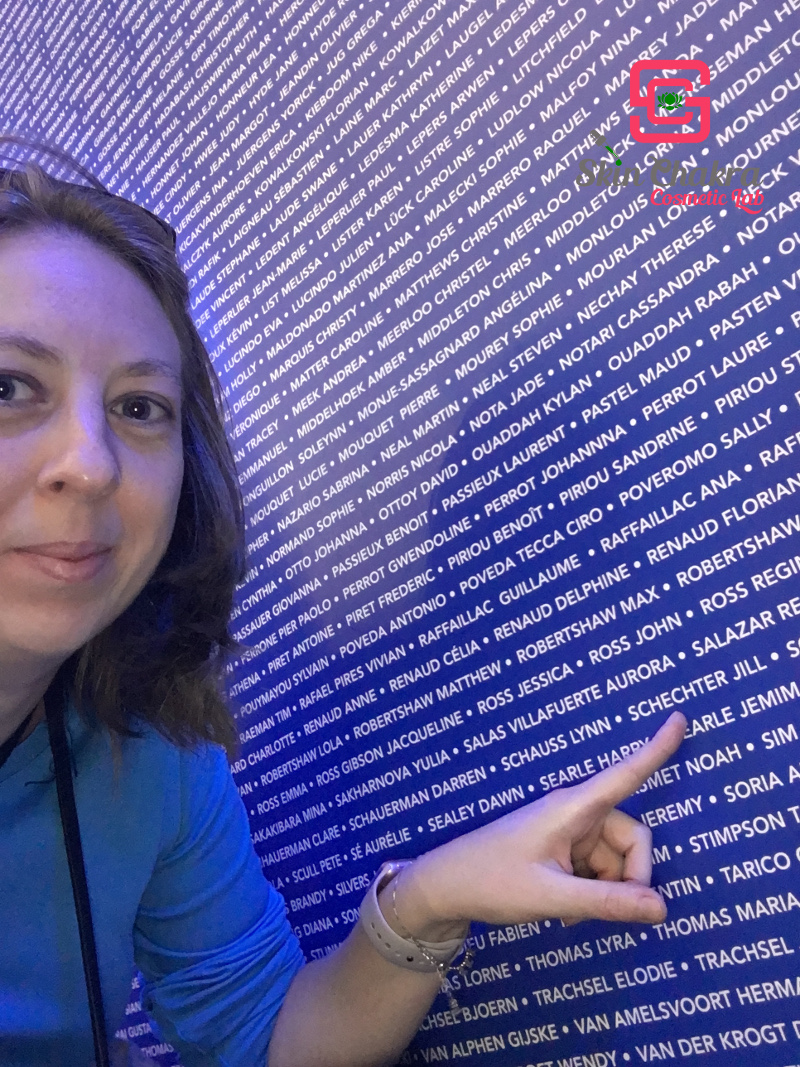 A little while back Elham and I were discussing deodorants, our likes and dislikes, what works for us and what not, and our preferred application form. I think I can speak for both of us when I say that creating a natural deodorant is not as easy-peasy as it may seem, mainly because a deodorant can be amazing for one person while another finds it "mwoh-mwoh" okay-ish.
The reasoning behind this: we all have a personal microbiome that is typical for us, and changes together with us over time. For example: during our hormonal cycle (both men and women!), when we adjust our diet and lifestyle, when we get sick, and so on.
This is why a mainstream deodorant always works: the antiperspirants simply cut off the sweating and disrupt the microbiome by doing so. Let's say this is 'effective in a non-stinky way' for 98% of the population, but with consequences.
With a natural deodorant you focus on reducing the body odour by targeting the bacteria in your armpits that produce the various bad smelling compound, with respect for the microbiome. Since we all have our personal microbiome, it's fair to say it's a mission impossible to create 1 deodorant that is universally liked and 100% effective for everyone.
This means this is a very intriguing challenge for us as formulators. If you consider kicking off a brand containing deodorants, it would be worthwhile to offer different application forms, ànd look closely into essential oil blends. This goes further then just the simple floral/citrus/herby/oriental preferences! Brilliance occurs when you start focusing on different target groups that help combat the anti-stinking matter by investigating the properties of the essential oils and other extracts. To give you an idea, think caricature stereotypes: a vibrant woman in her premenopausal stage would benefit from another blend than a young and springy young lady in her twenties; or the business guy with a sedentary occupation versus the active dude always on the run; or the vegetarian with a healthy lifestyle versus the bon-vivant enjoying all kinds (and plenty) of foods and drinks, etc.
If you are interested in more background in the working mechanisms of deodorants, and the different possible application forms, I happily refer to this post, which contains all the links of the previous deo posts too.
While Elham is totally head over heels with the bi-phase deodorants, I am all in for the deodorant balms! So here I am again with one of my deodorant balm formulations

.
Let me tell you a bit more about what I am targeting at. I don't have many talking-taboos; so for the more sensitive souls, please let me warn you, I will be writing about boobs, but in a non-offensive way

.
When you are blessed (or cursed, depending on how you look at it) with a larger size of breasts, this can have some annoying side effects as a result of constant friction. In your 20ies it's often not that big of a deal by virtue of everything pointing more in an upward direction. Yeah, not so much anymore when you start flirting with the 40ies and everything starts to sag a bit more, even though you are wearing a good supportive and solid bra.
During hot and sweaty summer months this can become an extra kind of a hassle.
During long runs this can become of a thing too.
And the combination of all of the above can be quite joyful.
Not really

.
So yes, I am talking about chafing, inflamed red skin, up to a yeast/candida albicans infection under your breasts. This can be very painful to say at the least, and not a very attractive sight either.
I am not too shy to admit I always use deodorant both in my armpits as under my breasts, because I am not a flat-chested girl. During sweaty moments, like with this long heat-wave-summer we had, and during my running, I am in need of an effective ànd protective deodorant balm. Not only to combat odour in these places, but also to prevent red inflammation under my breasts. And that is what this formula is all about!
In case you are wondering: yes, this is the reason why this deodorant balm contains such a high % of allantoin. We are making cosmetics, not medicine. However, as a side note, I would like to mention that before I started using this deodorant the skin under my breasts was really suffering, and truth be told, it wasn't pretty. Since using this deodorant my skin has healed 100% without marks, and it is back to normal skin. It's possible for me to switch to another kind of application deodorant in between, but not for too long because then the sore, red and irritated skin comes back (mainly because I keep on running and sweating). So yes, I would say the high amount of allantoin both serves as effective wound healing, and after that as prevention and protection. Of course, as always, it's not only the allantoin that has this effect, but it's the result of the combination of all the other ingredients together; the perfect illustration where the whole is more than the sum of its separate parts.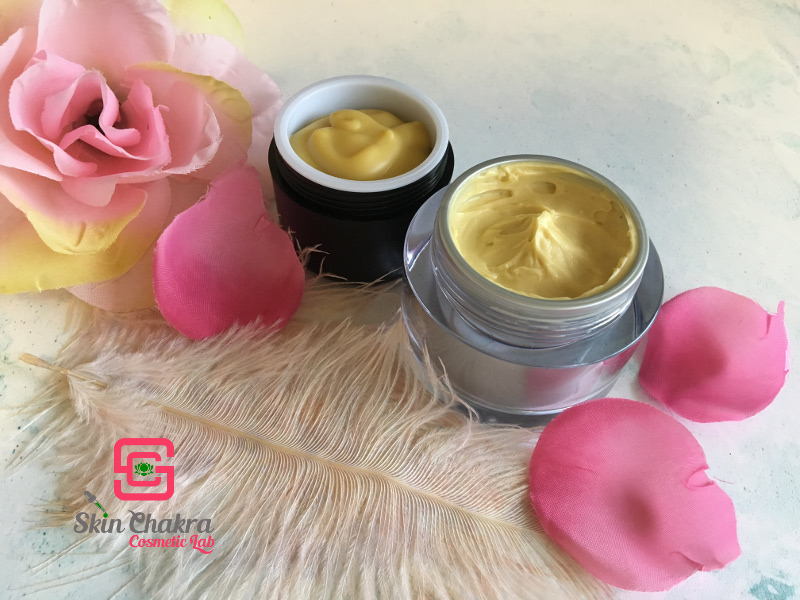 Let's jump to our forulation and procedure.
Here's our formula:
Phase A
20% myrica wax
2% rice wax
0,5% lecithin
0,3% ascorbyl palmitate
Phase B
16% babassu oil
Phase C
0,5% tocopherol
0,2% alpha bisabolol
0,25% tamanu oil
0,1% rosemary Co2 extract
0,1% sage CO2 extract
0,1% ajowan Co2 extract
0,1% anti microbial Co2 extract
0,5% evening primrose Co2 extract
0,1% eo peppermint
0,1% eo tea tree
0,1% eo litsea
0,2% eo lemon verbena
Phase D
22,25% lexfeel natural
10% rice starch
5% kaolin
2% allantoin
Procedure:
1/ Blend each phase separately in a beaker.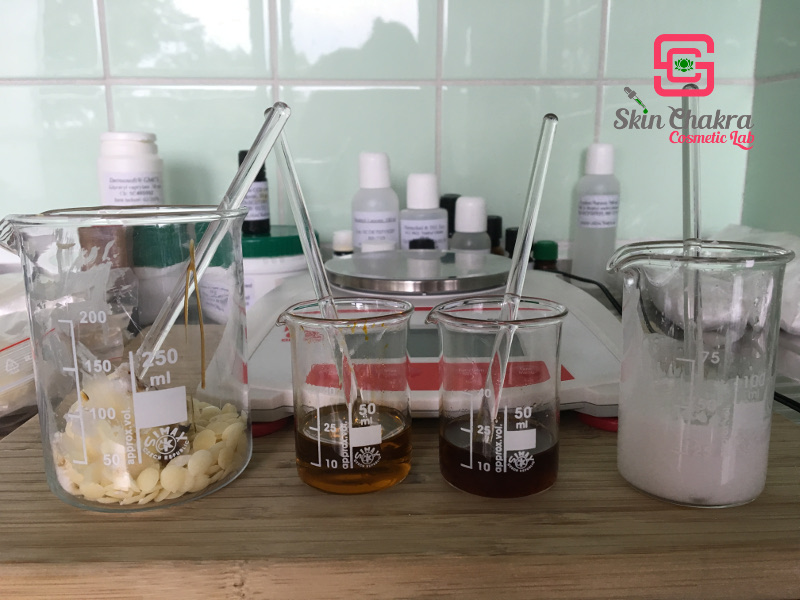 2/ Warm your phase B up below 38°C. Calendula CO2 is a thick paste, and the gentle heat makes it easier to dissolve. When fully incorporated, remove from the water bath and set aside.
3/ Turn up your water bath and heat phase A between 80-85°C. Ascorbyl palmitate needs this high temperature to melt in the butter/wax phase. If you don't use any ascorbyl palmitate, you need to heat the butter phase according to the melting point of your waxes and butters.
Because I am a control freak I like to have 2 thermometers: one in the water bath so I can keep track of the actual temperature of the water bath (upper one), and another one in the beaker, so I know the exact temperature of the beaker content. As you can see, this is really helpful!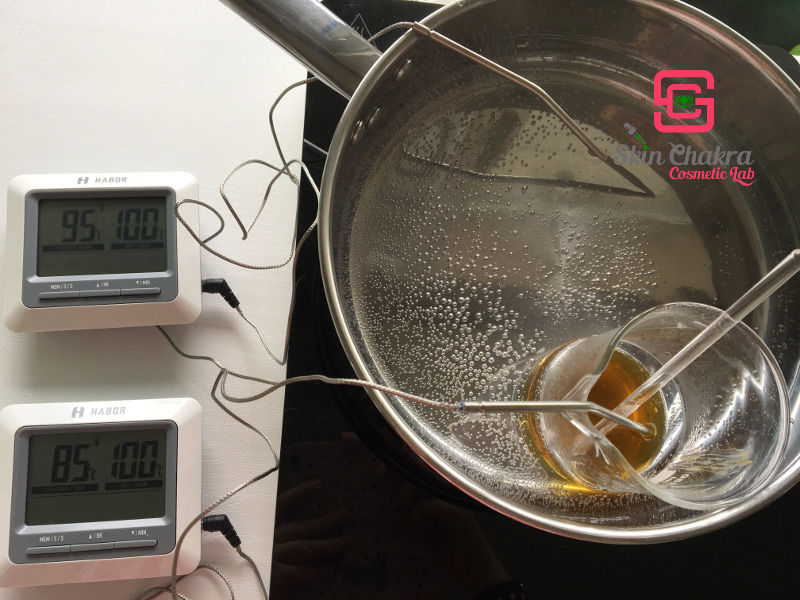 4/ When the wax/butter phase is melted and the ascorbyl palmitate is fully blended turn off the heat but leave your beaker in the water bath. Blends with rice wax tend to solidify the moment you start adding something else, so this helps to prevent this. Stir gently while you add phase B.
5/Remove the beaker from the water bath, and stir while you gently cool down. You can put your beaker in the fridge and stir it every now and then to avoid graininess or you can cool down at room temperature while blending. Do not leave the blend to its destiny. The key to avoid graininess is to keep stirring during the cool down.
6/ Add phase C as the temperature reaches ca. 40 degrees. Continue stirring while cooling.
7/ At a low trace, add phase D. Keep in mind that the powders do not dissolve in lexfeel natural, you need to keep them suspended by stirring.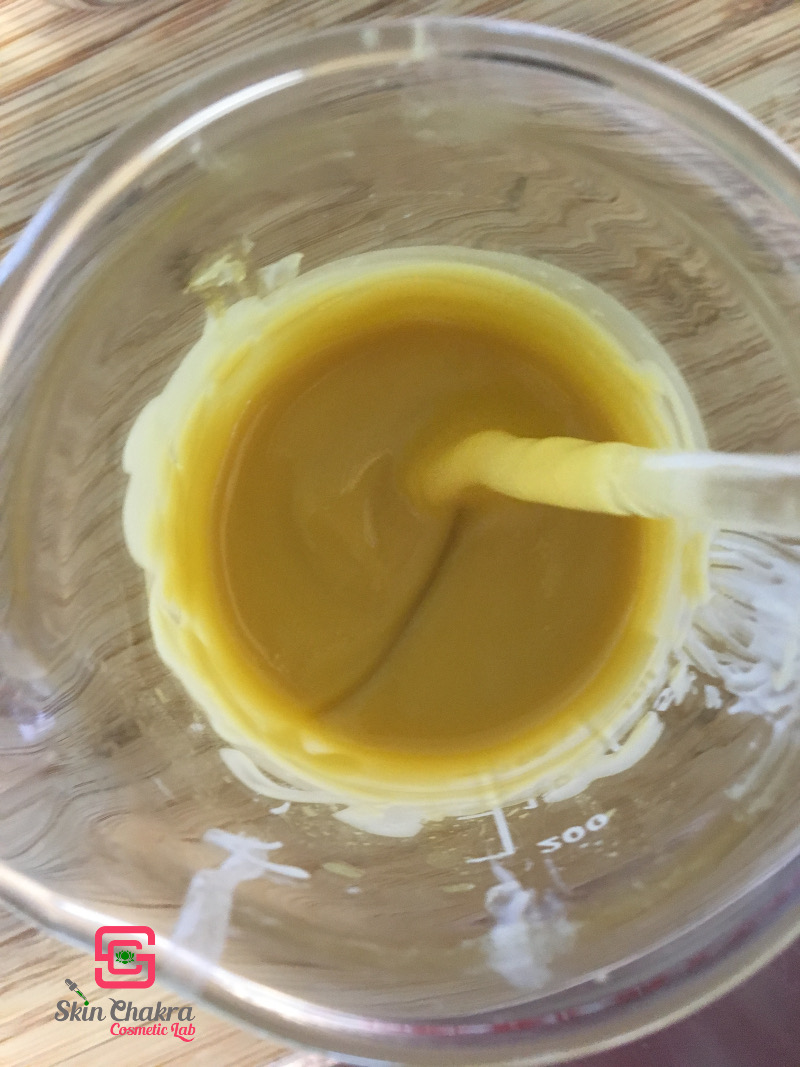 8/ Continue cooling and stirring and at a medium trace pour into your jars and put in the fridge for 12 hours to overnight (do not screw the jar lid completely). OR, you can go for a whipped version! Start whipping at this point if you want until you have the texture you are after. I have made 2 versions, a whipped and a non-whipped!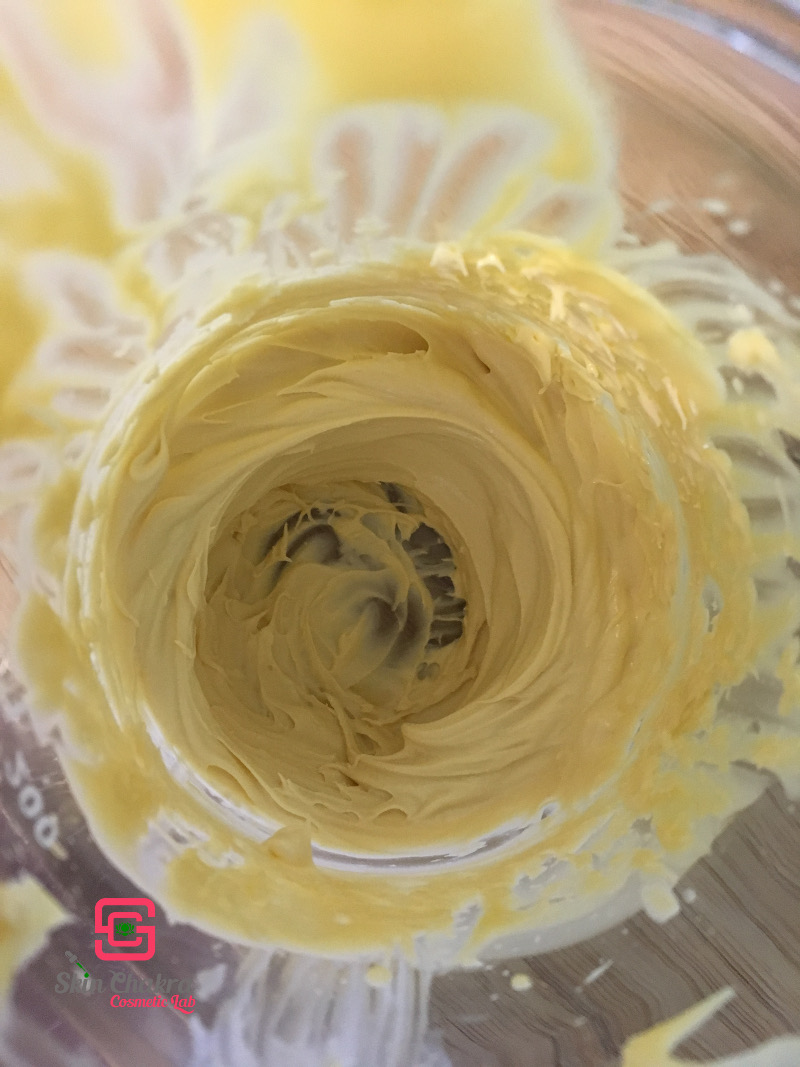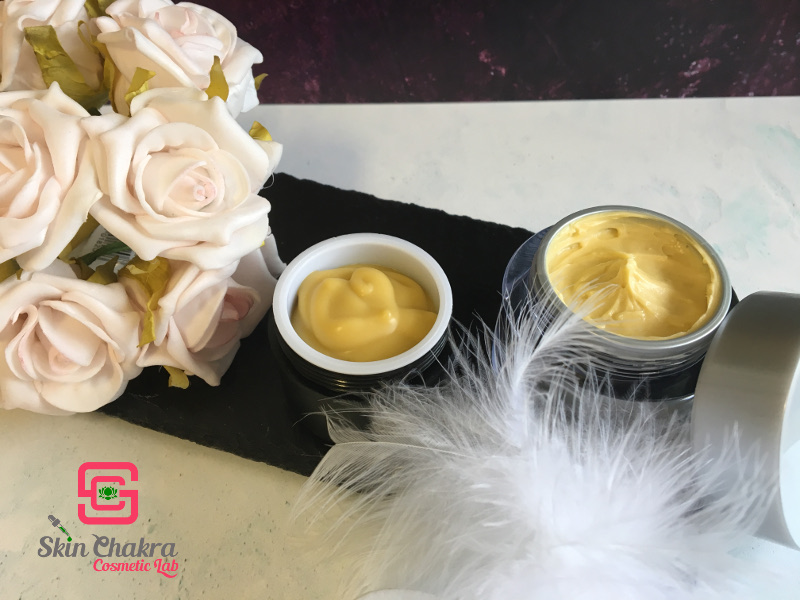 Trouble shooting for a grainy end product:
Stir to a trace is as crucial as always! Look at this post

A high temperature is essential when working with ascorbyl palmitate, so you need to keep an eye on your thermometer. If you notice grains in your end product, try squashing a bit between your fingers. If it remains a grain, then this is most likely non-melted ascorbyl palmitate and you will need to increase the temperature of your water bath for your next batch.

This product contains quite a high % of powders, they don't dissolve in the lexfeel, but it is possible to keep them suspended in the lexfeel by stirring this blend. Depending on the clay you are using, it may be that you will feel graininess/tiny particles in your product. When I make this formulation without the clay, I never have a problem, and it's always a perfectly nice and smooth product. However, the kaolin helps to absorb the sweat so it's actually quite nice to have this in your formulation. You can hear the difference when you prepare your phase D: with the powders only it turns into a nice smooth milky product without making a sound when you stir; with an added clay you can hear a (s)crunchy kind of sound during stirring. When you do squash-test between your fingers, and the grain disappears, this is high likely a teeny tiny clump of clay.
I hope you enjoyed this tutorial
Be magical
Jilly
Disclaimer: SkinChakra is responsible for the content of this blog post. Please send your comments and questions directly to SkinChakra and don't try to contact Jilly in private or via any other online forum/platform. Jilly or one of our team will happily come back to you.
Comments
Display comments as (
Linear
| Threaded)
The author does not allow comments to this entry