Sunday, 22. July 2018
Today's post is written by Jilly who is an amazing formulator and runner.
She has been creating and testing deodorants ever since we've published our first tutorial and now has created her own version of a natural bi-phase emulsion deodorant. Follow her for this easy to make but quite effective deodorant formulation.
Elham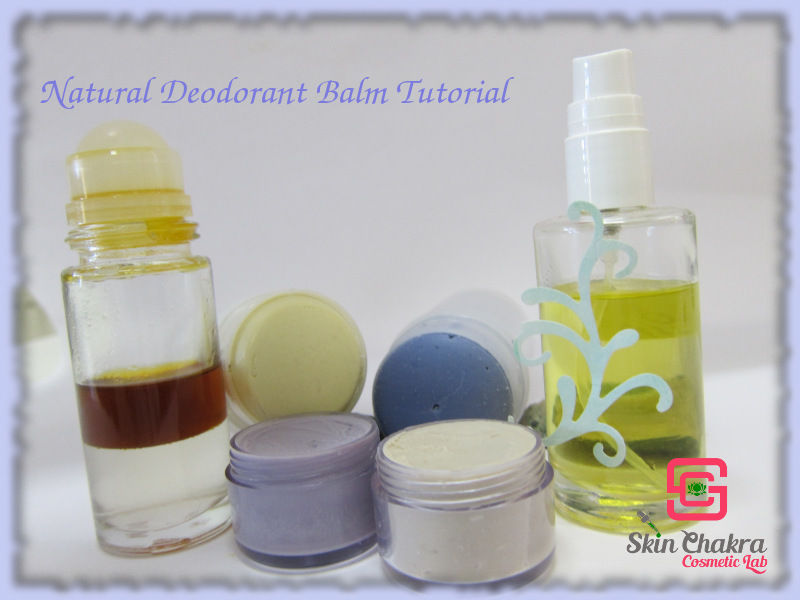 Deodorants have found their way in our daily routine. For me with my very super sensitive nose, this is indeed a must have product. Nothing beats a nice shower to wake up in the morning, especially with a lovely shampoo/wash bar like this:
and
but during the day it can happen that I become quite self conscience and a bit like "I start to smell myself"; most often I know this isn't the case but even the thought on itself is enough to become a bit grumbly

.
We can go haha-hihi about this topic, and for some it even is taboo, but hey ho, we all produce sweat. Our skin contains loads and loads of glands, and some of these glands produce sweat. We have 2 types of sweat glands in our body: eccrine and apocrine. Eccrine glands are all over our body and have a function in controlling our body temperature. Apocrine glands are concentrated in certain areas (armpits, the darker area around our nipples, eyelids, nostril wings and some parts of the external genitalia) and can be triggered by stress, excitement and arousal. So yes, there is a huge difference in composition (and its odour) of emotional and physical sweat!
When we are hot, active, aroused, excited, nervous, stressed, or even when having hot flashes during a fever or the menopause, … our sweat glands are stimulated to produce sweat. When this sweat evaporates from our skin, it absorbs heat energy from our body and starts to cool us down again.
In our armpits alone, we have between 25.000 and 50.000 sweat glands! And this is even only a very small amount of the total of our entire body

. But the sweat is more likely to get trapped under our arms and cannot escape, and so it will be more noticeable over there. Sweat on itself doesn't actually smell at all. But we do have a natural microbiome living all over our body. I am sure Elham has loads to tell you about these microbiomes, but for now it suffices to know that we are all covered head to toe in micro-organisms (and these are NOT ALL BAD: a well functioning microbiome is even essential for our health). Bacteria are part of this microbiome, and when they mix and party together with our sweat … yeah, they create a body odour making some of us smell like a field of onions or even goats!
It's no wonder mainstream brands jump on this boat to make you feel less stinky. In general there are 2 kinds of products:
1/ Deodorants: help to reduce body odour by targeting the bacteria under your arms that produce the various bad smelling compounds.
2/ Antiperspirants: these fight body odour by cutting down on sweating. They do this by adding aluminium or zirconium based compounds, and these compounds actually form a plug that physically blocks perspiration from being able to escape the sweat glands.
Aluminium and co have been much talked about in the news: correlation up to even causal in the development of cancer and Alzheimer. Non-surprisingly recent research has found out that these compounds really mess up your natural microbiome, making the stinky problem even worse on the long term.
When you go looking in health stores for a more natural version, one of the main ingredients is very often alcohol (to kill the bacteria, as part of the preservative system, …), which my skin definitely doesn't like at all!
Keeping all of this in the back of your mind, it's not a miracle that making my own deodorant that is effective ànd non-disturbing for my skin and general well-being is very high on my priority list .
The past year, we have been playing around with ingredients to create such a deodorant. When you follow this blog, you certainly have seen deo products in different looks and application forms passing:
Now, I am back with another bi phase deodorant! I was over the moon when I discovered the ajowan CO2 extract because for me, this addition makes the difference from excellent efficacy to out of this world efficacy! Important side note: please don't feel intimidated when you smell the raw material! Ajowan on itself is REALLY strong, and when I first smelled this extract I almost ran half a marathon! It won't be overpowering in the finished product, and it even starts to smell nice, especially in combination with the other ingredients. Most importantly, it helps you feel fresh as a daisy throughout the day.
As with all the other deo products on the blog: this deo is not an antiperspirant, so it won't stop you from sweating. It WILL have antimicrobial properties (in a very friendly way for our natural flora) so you won't feel like a stinky goat. Of course, a daily hygienic routine is also helpful

as well as applying this deodorant on shaven armpits (a forest of armpit hair is very inviting for a bacterial party). Here is some inspiration if you want to make a shaving product too:
and
Lastly, I would also like to recommend taking your time to get used to these natural deodorants, especially if you are coming from commercial (antiperspirant) deodorants.
Here's our formula to make a beautiful summer feel anti-stink bi phase deodorant:
Formulation:
| | |
| --- | --- |
| Phase A | |
| Peppermint hydrosol | to 100,0% |
| Lavender hydrosol | 25,0% |
| Plant based pentylene glycol | 4,0% |
| Magnesium chloride | 10,0% |
| Allantoin | 0,2% |
| Aloe vera leaf juice powder | 0,1% |
| Sodium lactate | 1,0% |
| Sodium citrate | 0,3% |
| Lactic acid or arginine | to adjust the pH |
| Phase B | |
| Lexfeel natural | 24,5% |
| Calendula CO2 extract | 0,1% |
| Phase C | |
| Isoamyl laurate | 5,0% |
| Triethyl citrate TEC eco | 5,0% |
| Deodorant active decalact deo | 1,0% |
| Natural tocopherols | 0,5% |
| Rosemary CO2 extract | 0,1% |
| Spectrastat G2-N | 0,8% |
| alpha-bisabolol | 0,2% |
| Buriti oil | 2,0% |
| Evening primrose CO2 extract | 0,5% |
| Curcuma longa CO2 extract | 0,1% |
| Sage CO2 extract | 0,1% |
| Ajowan CO2 extract | 0,1% |
| Antimicrobial blend | 0,1% |
| Peppermint oil | 0,1% |
| Tea tree oil | 0,1% |
| Litsea oil | 0,1% |
| Cedarwood oil | 0,1% |
| Grapefruit oil | 0,1% |
Procedure:
1/ Blend all your ingredients of phase A (except pH adjuster, lactic acid or arginine). It helps if you have a magnetic stirrer to dissolve the powders more easily, but you can do this by hand too. Make a 10% dilution and measure the pH. In my case it was 4 and I raised the pH to 4,5 by adding a couple of drops of a 10% dilution of arginine.
2/ Blend the ingredients of phase B and warm it up slightly in a lukewarm water bath of around 38°C to dissolve the calendula CO2 more easily.
3/ Blend all ingredients of phase C together. Here are our 3 beakers together.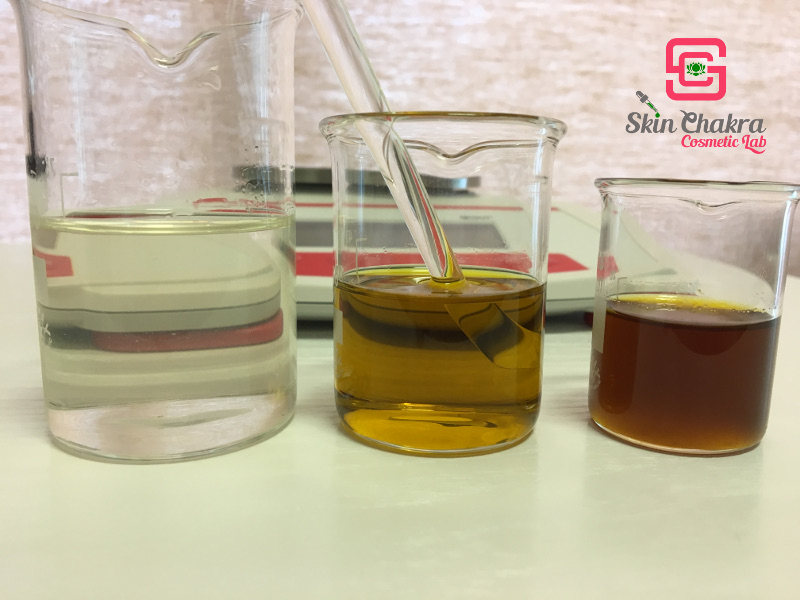 4/ Add phase B to phase C. Here is the oil phase and the water phase together.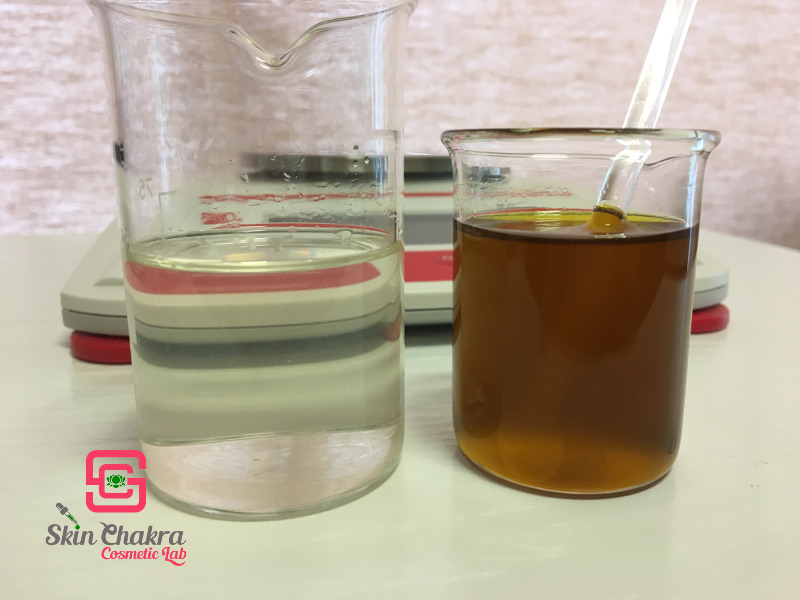 4/ When both your phases are ready you can pour them into a suitable bottle. For this type of product I prefer one of the lovely and handy roll on glass bottles, but you can use a spray bottle as well. Just make sure that the bottle of your choice (especially if it's made of plastic) that it is compatible with the EO's and CO2 extracts.
Shake the bottle before each application and enjoy the lovely happy colour! The temporary emulsion will break fast and easy back into the two phases after you stop shaking.
I hope you liked this tutorial and that this formula will help to make you feel confident during the day (and night), whatever your plans might be

Have a happy summer!
Be magical,
Jilly
Disclaimer: SkinChakra is responsible for the content of this blog post. Please send your comments and questions directly to SkinChakra and don't try to contact Jilly in private or via any other online forum/platform. Jilly or one of our team will happily come back to you.
Comments
Display comments as (
Linear
| Threaded)
The author does not allow comments to this entry