Thursday, 11. October 2018
Vitamin C is a popular ingredient in skincare, specially in "natural" skin care where we work with loads of oxidation sensitive plant oils. As an effective antioxidant, it not only protects the ingredients in the formulation against oxidation (and we have lots of them in natural formulations), it protects skin lipids against oxidation, boosts collagen synthesis and hence imparts anti-aging properties.
Did you know that we have two types of skin lipids?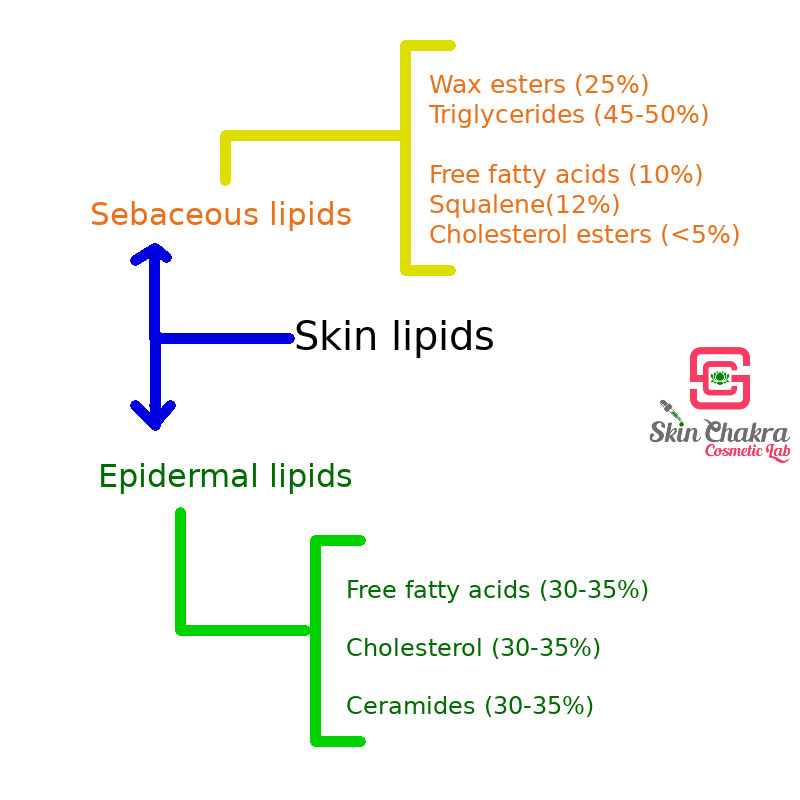 What happens during oxidation of skin lipids?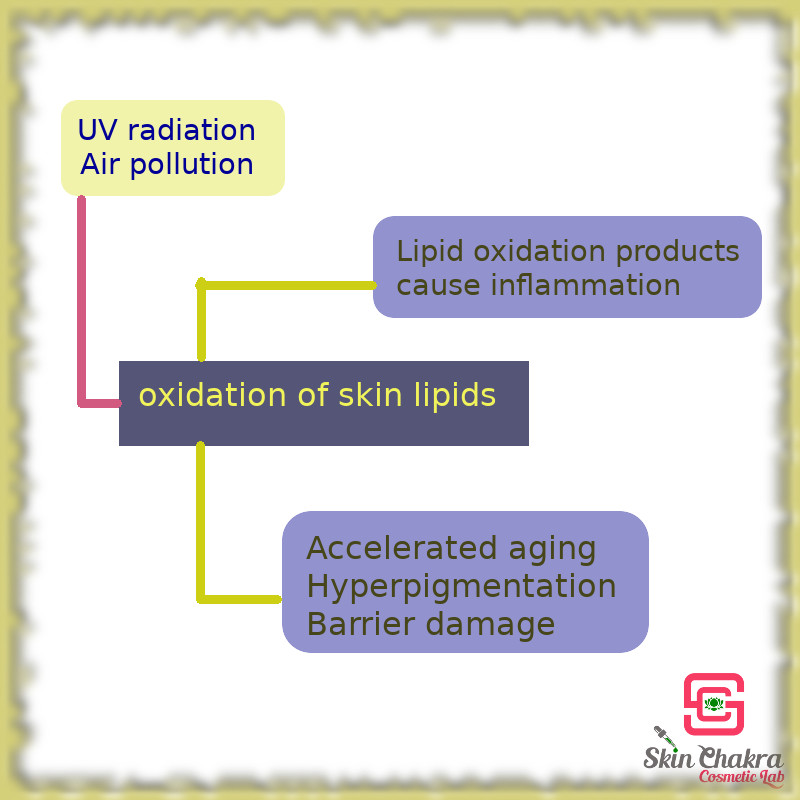 Vitamin C as a potent antioxidant and a hero of anti-pollution and anti-aging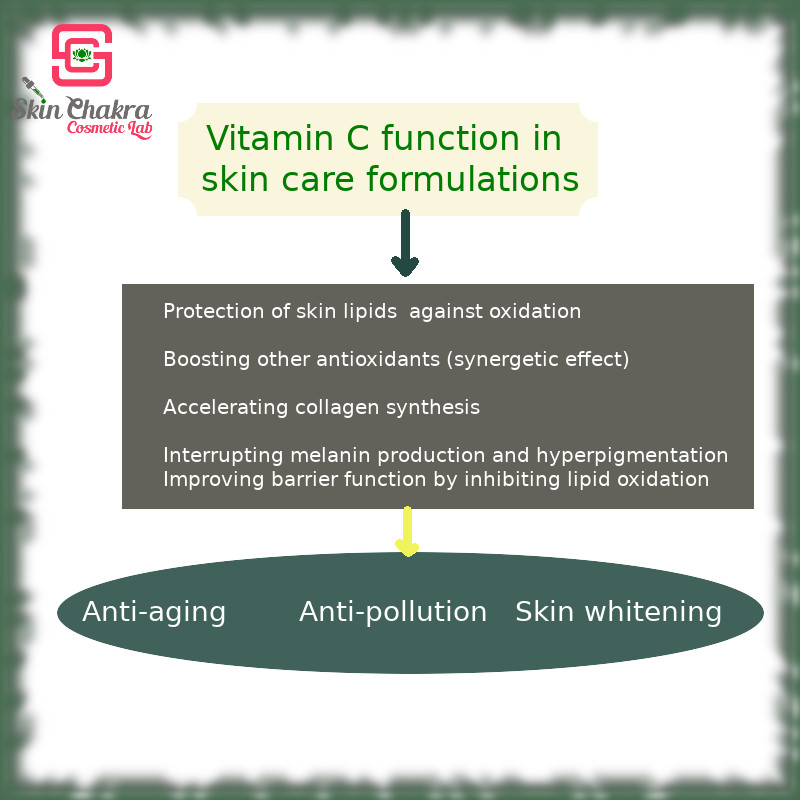 Different forms of vitamin C in skincare
Certainly the purest, the best known and the most natural form of vitamin C is ascorbic acid (to be exact the L-Ascorbic acid).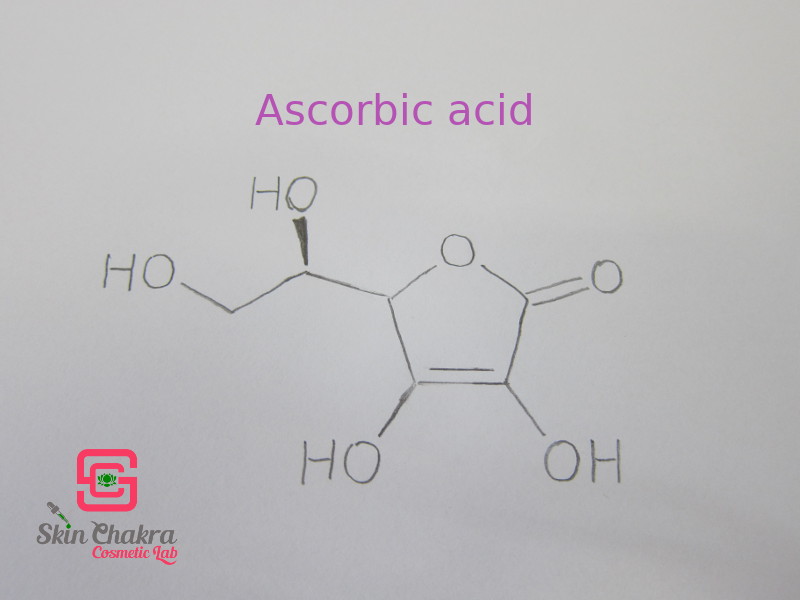 This is the very same vitamin C available in abundance in citrus fruits, green bell pepper, cabbage and co.. It is a crystalline white powder and is soluble in water and ethanol. However ascorbic acid is extremely sensitive to light and oxygen and oxidizes very fast to dehydroascorbic acid or DHA (the very same ingredient used in sunless tanning). Because of its instability, vitamin C is seldom used in its pure and original form (ascorbic acid) in cosmetics.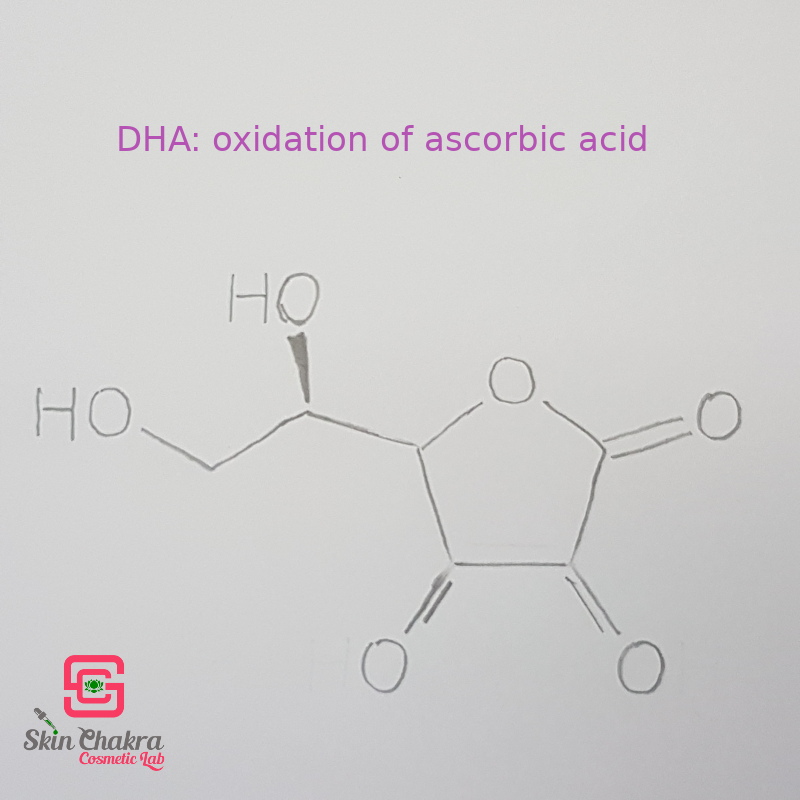 Various esters of vitamin C which are much more stable (and as a matter of fact less effective) are used instead. These include:
Ascorbyl palmitate
Ascorbyl tetraisopalmitate
Tetrahexyldecyl ascorbate
Ascorbyl isostearate
Ascorbyl linoleate
Ascorbyl stearate
Ascorbyl dipalmitate
Ascorbyl nicotinate
to name a few.
Ascorbyl palmitate is probably the most widely used vitamin C ester in cosmetics. It is a white powder (like vitamic C) and unlike vitamin C it is a lipophilic (not soluble in water or glycerine) ingredient. As the name reveals, this is an derived from ascorbic acid and palmitic acid which could be naturally derived or be completely synthetic. (be aware that esters of ascorbic acid do not exist in nature, they are all synthesized in the lab and vary in "naturalness" ((I created a new word)) depending on the raw material and on the manufacturing procedure).
Ascorbyl palmitate is a powder and should be dispersed in a lipophilic carrier before being added to the formulation. So far, so good. The challenge starts here. It needs heat to be dispersed. High temperatures ca. 80°C. This is higher than the melting range of most emulsifiers and this means you need a rather stable lipid phase to incorporate ascorbyl palmitate before blending it with the rest of the lipid phase.
Look at these formulation examples to see how we've incorporated ascorbyl palmitate in a balm:
This requirement for high temperatures could be quite a challenge when you're working with a cold process formulation or have heat sensitive ingredients. Like all other ingredients, if not correctly incorporated, ascorbyl palmitate can cause graininess and instability of the whole formulation (in addition to being totally ineffective).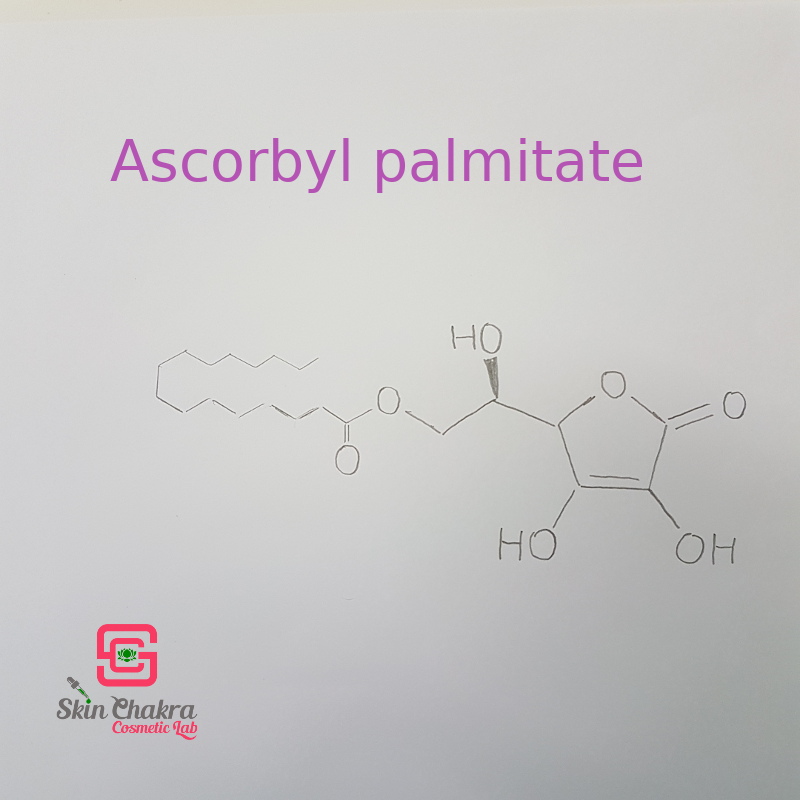 It's not the end of the challenges. The real challenge is: even at very high temperatures, ascorbyl palmitate doesn't become quite clear in liquid oils. It means, you can heat it in the oil phase and create effective and optically appealing balms and emulsions but you can not create a completely transparent oil (cleansing oil, oil serum or a bi-phase product with a transparent oil phase). The oil remains cloudy (of course nobody realizes this when you fill your product in an opaque and light protected container)
Ascorbyl tetraisopalmitate is a liquid ester of ascorbic acid. It is a clear liquid (in the title photo, it is beside ascorbyl palmitate) and is easily dissolved in the lipid phase @RT (what a relief). No heating at high temperatures is needed and you can cold process it.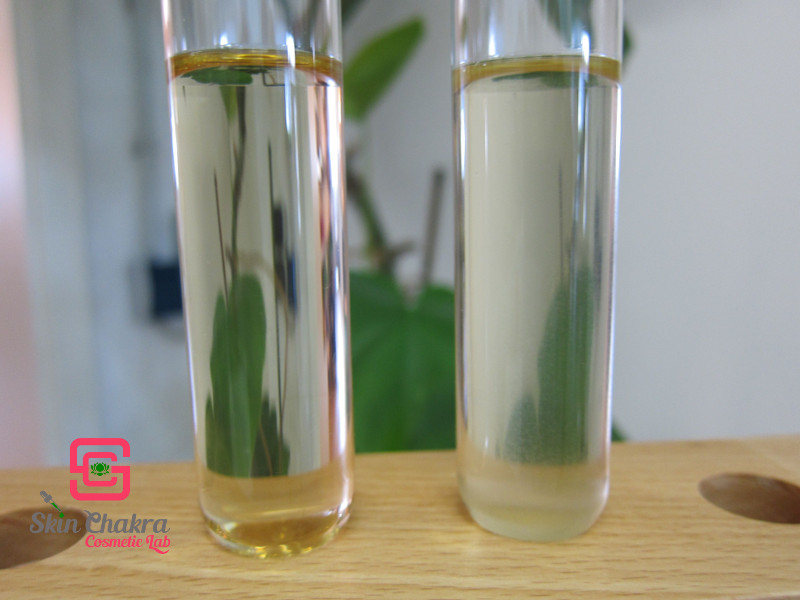 In the above photo you can clearly observe the difference. The right photo is ascorbyl palmitate dispersed in jojoba oil @80 oC and then cooled down to RT. The left photo is ascorbyl tetraisopalmitate dispersed in jojoba oil @RT.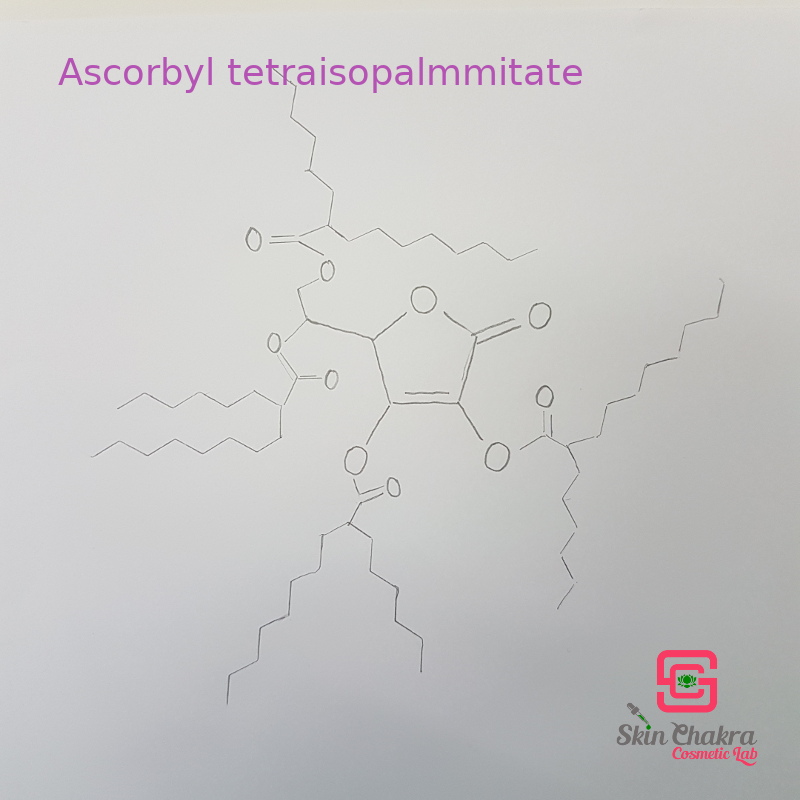 Advantages and disadvantages
Ascorbyl tetraisopalmitate is a popular ingredient in mainstream-natural cosmetics (specially popular in Asia) and some of our customers and readers have asked me to make a comparison between it and ascorbyl palmitate.
Processing:
As already mentioned, ascorbyl tetraisopalmitate could be cold processed and creates transparent oils even when cold processed. This is a huge (and probably the only) advantage over ascorbyl palmitate.
Naturalness:
Depending on your definition of "natural" you may accept both ingredients as natural, reject both or prefer one over the other. As I mentioned before, the only true "natural" vitamin C form is the ascorbic acid. All esters are synthesized. Whereas our source of ascorbyl palmitate is completely plant based, ascorbyl tetraisopalmitate (the tetraisopalmitate part) is petrochemical based.
Efficacy:
Have a look at the molecules of ascorbyl palmitate and ascorbyl tetraisopalmitate. AP is about 3 times (2,7 times to be exact) smaller (lighter) than Ascorbyl tetraisopalmitate which is a huge molecule (and rather rigid). Whereas ATIP has a higher affinity for stratum corneum (this is obvious because this huge molecule can hardly penetrate), AP has a higher affinity for lower skin layers.
Depending on your aim of formulation and your product concept, you might prefer one form over the other (apart from their antioxidant properties to protect the formulation and apart from the difference in cold vs. hot processing).
Ecological impact:
AP is lightly aquatoxic (there is no hazard phrase in the SDS, only a recommendation that the material should not enter surface water or drains) whereas ATIP has a higher aquatoxicity.
Depending on your product concept and ethos you might want to avoid ascorbyl tetraisopalmitate or even both of them.
Toxicity:
AP has a LD50 of >25000 mg/kg whereas ascorbyl tetraisopalmitate has a LD50 of 3000 mg/kg.
Bottom line:
Both ingredients are very popular and common in cosmetic formulations even in "natural" cosmetics. It depends on your demands, concept and ethos which one to choose and which one to avoid. Certainly cold processing is a huge advantage of ascorbyl tetraisopalmitate over ascorbyl palmitate.
@SkinChakra and after a long period of testing and considerations, we have decided to source ascorbyl tetraisopalmitate. You have to make your own choice.
References and further reading:
Pappas, Apostolos. "Epidermal surface lipids." Dermato-endocrinology 1.2 (2009): 72-76.
Pullar, Juliet M., Anitra C. Carr, and Margreet Vissers. "The roles of vitamin C in skin health." Nutrients 9.8 (2017): 866.
http://www.cir-safety.org/sites/default/files/ethasb122016slr.pdf
Disclaimer:
Please don't mind my chemistry scribbles. Te angles and dimensions are not exactly correct but the point is to show you the molecules so that you can have an imagination of their relative sizes and rigidness.
BeHappy and have fun
Comments
Display comments as (
Linear
| Threaded)
The author does not allow comments to this entry