Thursday, 10. October 2019
The main task of a good formulation chemist is not to create a cocktail or salad of ingredients but to create an effective, stable, safe and pleasant product. (Well apart from hundreds of other demands that are dictated from the marketing and sales departments)
Some 30 years ago, it was enough to have a "natural" or "hand made" product. You could sell the ugliest product with no scent or a medicinal scent literally wrapped in newspaper or packed in a Bohemian jar and those who were IN the "natural" products or just curious to test a natural product would wait in line to purchase your product on a farmers' market.
This is not the case anymore. With the increasing appetite of leading global brands for "natural" products (although most of them are crappy greennwashed version of the crappy mainstream products) consumer expectations have changed. Of course a genuine "natural" product should be sustainable and environmental friendly in addition to all other parameters but this is not enough anymore. The product should be appealing to the eye as well as to the nose, should be stable and safe and have a pleasant skin feel and be packed and wrapped in a beautiful package (and that should be completely sustainable and environmental friendly package).
During my years of working both with industry folks and artisanal entrepreneurs, I have observed that the artisanal formulators get much involved in the benefits of the raw material and using impressive ingredients (which indeed should be one of the highest priorities) but sacrifice the skin feel and texture on the way.
Have you ever heard from a customer or a may-be customer this objection to natural products?
They feel fatty and greasy whereas the drugstore products are so pleasant
(Well, I have heard this complaint from many artisanal manufacturers). This is outrageous and all of us know that those products are good for nothing and are a blend of the cheapest possible ingredients with only 0,1% of some fanciful ingredients just for the sake of marketing and putting the names of the labels (according to Perry Romanowski one of the most prominent cosmetic chemist of the universe). But still people are impressed with the appearance and skin feel and prefer those craps to your amazing creations. Even if you have your community of loyal fans who truly know the value of your products and regularly purchase your products, they are still convinced that the mainstream products feel better on skin (don't agree with me? Go ask your community)
Let's be honest
With all respect and passion for "natural" ingredients and miraculous promises, texture, skin feel and appearance are among the most important deciding factors in a world with thousands of "natural & organic" products available to the customer with only a mouse click.
How to fix the problem
If you are not Nivea or Dove or one of those crappy big names, you don't have to appeal to everybody. You have hopefully found your niche and know what you are doing. Some of you even create bespoke products for selected customers. This means you create a project based on demands and desires of an individual customer or a small group of customers. Here, you can take ordinary ingredients and transform them to extraordinary products without violating your ethos and your sustainabile soul or the mission statement of your company.
Let's talk about texture
This is something non of the existing schools and academies and institutes of formulation teaches you (at least to my actual knowledge). Texture is a strange word in the vocabulary of formulation schools because testing and comparing texture is a huge, time consuming task but at the same time it is where you can stand-out and prove that you can do better than your competitors.
Disclaimer: Professional laboratories have viscometers, rheometers and texture analyzers for this task but it doesn't mean you have to ignore texture because you don't have any of these instruments.
We have recently posted a blog post about testing viscosity and texture modifiers in an artisanal lab:
and another post about the impact of fatty alcohols on a KISS emulsion:
In this post I'm going to expand those previous posts and show you the impact of texture modifiers in another KISS formulation.
Keep in mind that this comparison is not about finding the best ot worst texture modifier. It is about showing you a METHOD to compare and analyze texture and find the most suitable one or a suitable blend for a specific purpose even if you don't have a texture analyzer.
A texture modifier that works perfectly in a certain project might not be suitable for another project. It's all about your briefing and the requirements of each individual project. Sometimes you may want to increase the viscosity, another time you may want to add fluffiness or reduce shine in an emulsion. There is no one-fits-all solution in any formulation task and this one is no exception.
For this project I chose Olivem 1000 as my emulsifier. It was one of the most widely used emulsifiers in artisanal labs any by skincre formulation students and a kind of classic natural emulsifier but it is notorious for its soapiness.
I chose sweet almond oil as my oil because it has no impact on the colour of an emulsion.
These are the additives I chose for this project:
Well, these do not all belong to the same class. Comparing them is like comparing an apple and a pear. You can break this list to:
a) CA, BA. BW, PB
b) RS, OS, COM
I just ran a bunch of experiments as I was busy making the emulsions and I've compared them all together.
Method:
Obviously this is a hot procedure. I did it the very classical way.
Dispersing the gum in the water phase at RT
Heating oil and water phases separately
Then slowly adding the oil phase to the water phase
Homogenizing and the stirring to cool down
Measuring and adjusting the pH
Adding the preservative
Measuring and adjusting the pH again
Viscosities were measured after 24 hours. Stability testing was a standart test and all samples passed it.
Impact on the viscosity:
As you can see, oat silk and COM slightly reduce the viscosity, rice starch and plum butter slightly increase the viscosity and berry wax, cetyl alcohol and brassica alcohol all increase the viscosity with cetyl alcohol having the biggest impact on the viscosity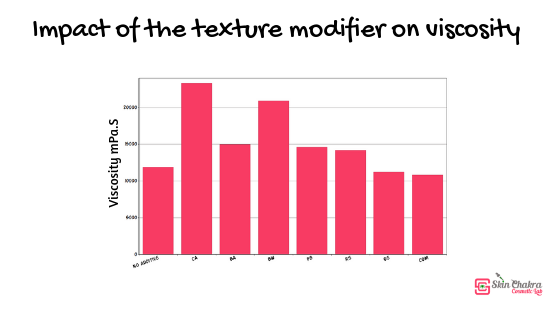 Impact on soapiness:
Olivem 1000 is notorious for its soapiness. We tested all of these additives for their impact on soapiness.
Although none of them completely cures soapiness, some of these additives reduce the soapiness quite significantly.
The ingredients reducing the soapiness are:
Brassica alcohol
Cetyl alcohol
Plum butter
modified rice starch
oat silk, COM and berry wax have almost no impact on the soapiness.
Impact on texture and appearance:
Although this is difficult to clearly distinguish from the photos, these are our observations:
Fatty alcohols (cetyl and brassica alcohol) add richness (as well as viscosity) to the emulsion. Cetyl alcohol makes the emulsion whiter compared with the one with BA but BA has a more pleasant skin feel and more shine.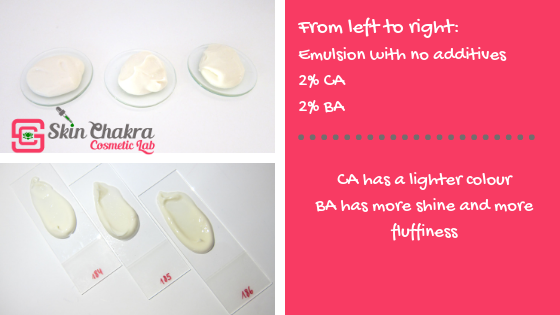 Berry wax imparts volume and fluffiness to the emulsion. It increases the viscosity but to a much less extent compared with the fatty alcohols. The emulsion has the texture of a whipped ctream.
Plum butter makes the emulsion more buttery (is that a word at all?) or more creamy.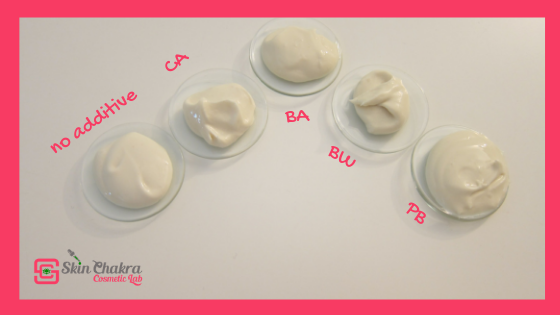 Modified rice starch, oat silk and COM all impart a dry skin feel to the emulsion. Both oat silk and COM impart a kind of greyish shade to the emulsion.
The emulsion with rice starch has a powdery skin feel whereas the emulsion with the oat silk has a velvety skin feel. COM has the least appealing texture of all 3 although the skin feel (but not the soapiness) is still better than the plain emulsion with no additive.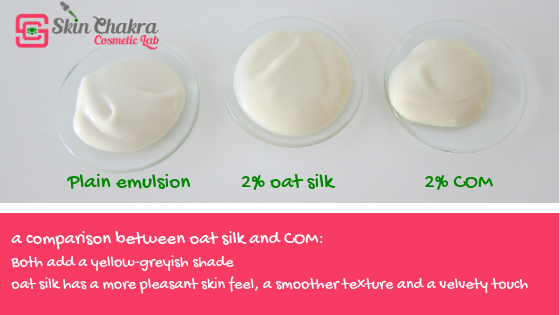 As I mentioned before, this is not about finding the BEST additive. This experiment was about comparing the impact of different additives and I hope it could inspire you to run some similar experiments and find the texture you need/like for your projects.
I would like to see your creations.
BeHappy and have fun
Comments
Display comments as (
Linear
| Threaded)
The author does not allow comments to this entry