Sonntag, 25. August 2019
Some of you can still remember "dermofeel G5O" which we've added to our shop in 2016. This was a natural and plant based emulsifier for creating gel-to-milk products and we've published tons of tutorials for various products based on this product.
Unfortunately Dr. Straetmans (which was not yet swallowed by Evonik) discontinued this product in 2018 due to some regulatory problems. This was a huge disappointment for all of us and we still receive inquiries from our readers and customers asking about a substitute for this amazing ingredient.
We have been searching and experimenting to find a reasonable substitute for G5O for the last two years (as soon it it was announced that the product is going to be discontinued) and have introduced two alternatives which are fantastic on their own but none of them is as versatile as the original G5O. One of these ingredients is the polyglyceryl-4 oleate and the other one is sucrose steaate.
Read some of our previous tutorials about these ingredients:
It seems that finally after two years of searching and experimenting, we have found something that not only is as versatile as the unlucky G5O but even a step further with more application possibilities.
What is Sapogel Q?
Sapogel Q is a 100% plant based and palm-free ingredient which is actually introduced as an oil gellant that creates a lanolin and petroleum jelly like texture in a "natural" way.
It is a brownish, low viscosity liquid and is a blend:
INCI: Glycerin & Aqua & Quillaja Saponaria Wood Extract & Saponaria Officinalis (Soapwort) Extract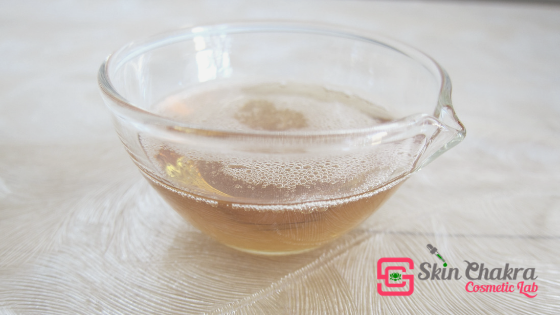 Now you may ask: why on earth do we need to create a lanolin or petroleum jelly like texture?
And there are many answers to that:
oil-gels are quite trendy at the moment. It's all about bringing something new to the market
oil-gels are much more convenient to use, both in a professional application as well as the end user and home application:

massage oil
oil-gel serums
oil-gel masks
oil-gel cleansing products

in an oil-gel you can apply ingredients that you have no chance to add into the oil without causing instability, sedimentation, turbidity etc (exfoliants, texture modifiers such as oat powder or starch)
Coming back to Sapogel Q and its unique properties which go further beyond just creating an oil gel:
it is 100% plant based and suitable for vegan formulations
all ingredients in this blend are even edible, completely safe and non-sensitizing
it is palm-oil free
you can create a broad range of viscosity with this ingredient
it can be used in both cold-process and hot-process
it is possible to add exfoliants, powders such as oat or starch without compromising the stability or appearance
it could be used both in rinse-off as well as in leave-on products
How it works
Sapogel Q works with all oils and butters. The viscosity of the product varies from oil to oil and you need to run some experiments to find the viscosity that suits your purposes and packaging.
Application dosage:
15-25%
the higher the Sapogel concentration the lower the viscosity. The followwing photo depicts three samples which are made of only two components: camelina oil and Sapogel Q.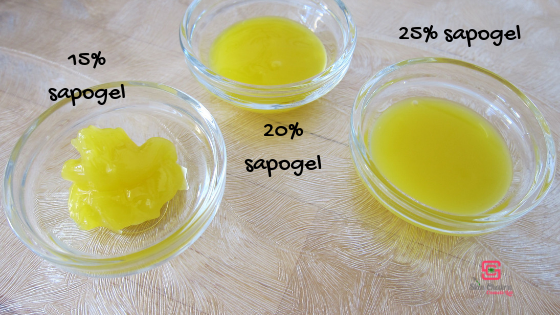 As you can see, the viscosity varies between a thick scoopable paste to a free flowing liquid by just increasing the sapogel concentration.
How to apply:
Sapogel Q could be applied both in cold and hot process. Although it is quite easy to use, still it is possible that everything goes wrong and you end up with an ugly and unstable something that you have to discard (no chance of rescuing it once it happens)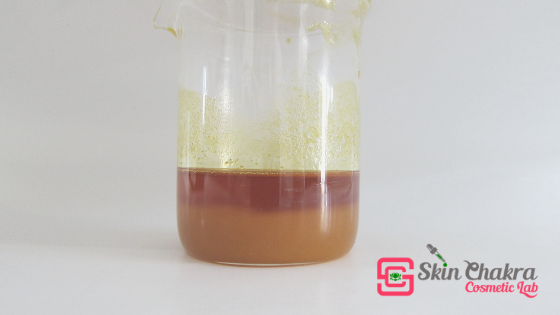 In contrast to polyglyceryl-4 oleate where you can easily add the oil and emulsifier together, you need to follow a certain procedure when working with sapogel Q.
Procedure:
1- Weight sapogel in a beaker
2- Weight the oil phase in another beaker
3- Very slowly add the oil phase in small aliquots to the sapogel phase and completely blend before adding the next portion.
4- Blend for a short while after all of the oil phase is added.
As easy as that
Adding glycerin:
Glycerine reduces the viscosity. You can add up to 5% glycerine to the sapogel phase. I personally don't like the skin feel of the glycerin in a leave-on product but it works very nice in a rinse-of product.
Look at the following samples. One is made with 15% sapogel + camelina oil, the other one contains 15% sapogel, 5% glycerine+ camelina oil. The difference in viscosity is quite obvious.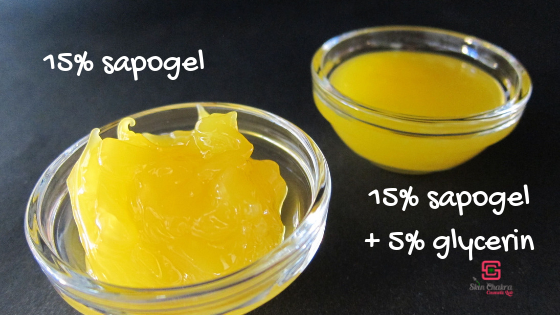 Adding texture modifiers:
I've added modified starch and oat silk to the sapogel+oil blend to test the texture and skin feel. Both of them increase the viscosity and both of them have a slightly opacifying effect on the oleo-gel. They improve the skin feel both in rinse-off and leave-on products.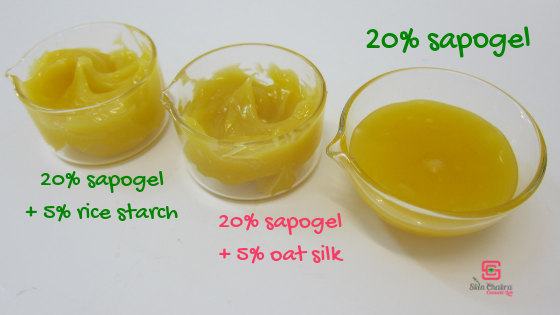 Adding exfoliants:
exfoliants could be easily added to the oil-gel. You only need to adjust the viscosity depending on the nature of the exfoliant to keep it suspended. The following picture shows a scrub with 10% volcanic sand exfoliant.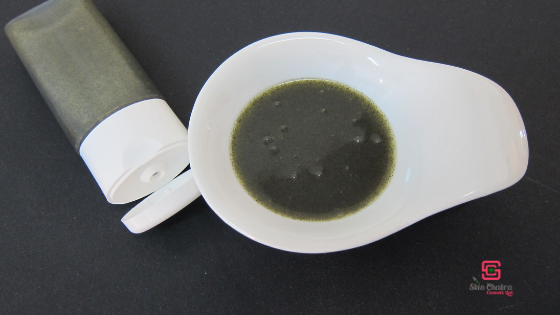 Rinse-off products and skin feel:
Products made with sapogel Q and specially made with sapogel Q+ glycerin are easily rinsed off. They belong to the "gel-to-milk" concept because by adding water the product turns milky and foams a little bit. The after feel is quite pleasant. It is not greasy but the skin is like it has been freshly pampered with a cream.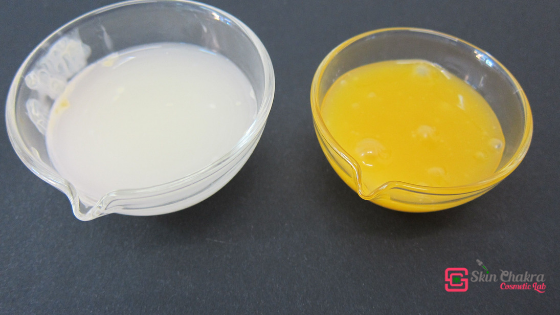 Preserving:
As long as you have not added any water to the system, products made with Sapogel Q are self-preserving and do not need any preservative. The risk of contamination rises when you prepare cleansing products and pack them in open mouth jars. The possibility that the consumer accidentally adds some water to the content is considerable. Keep in mind however that adding water to the product makes it milky and changes the whole appearance and spoils the whole product. Best way of packaging such products is a tube or a bottle when the chances of adding water to the container are non-existent.
If you decide to pack your product in a wide mouth jar and add a preservative, these preservatives would be suitable:
I hope you'll enjoy working with sapogel as much as I did. I'm going to share some tutorials in the coming weeks and meanwhile would love to see your creations with this amazing ingredient.
In this video I have answered to some of your questions about Sapogel Q.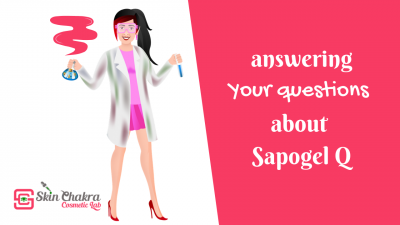 BeHappy and have fun
Comments
Display comments as (
Linear
| Threaded)
The author does not allow comments to this entry