Sunday, 18. February 2018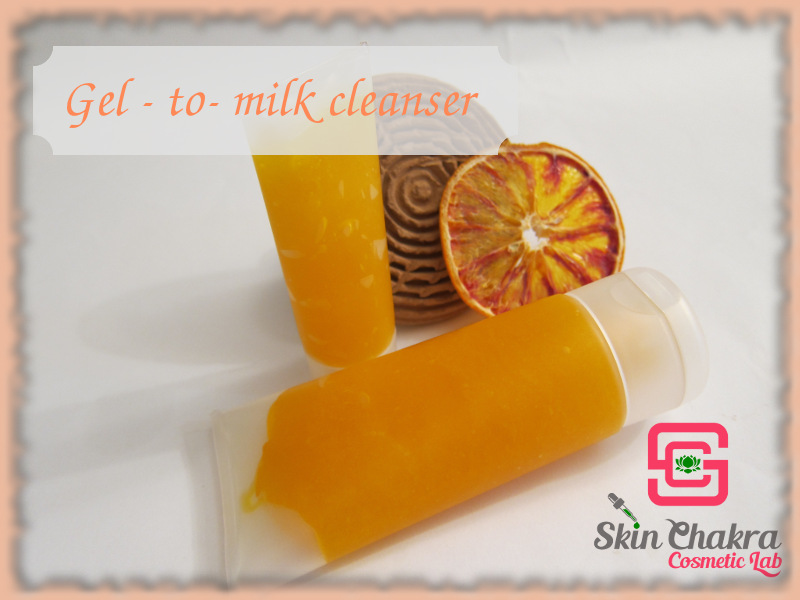 During the last years I have published tens of tutorials for the popular oil-to-milk system with an easy to make and amazing oleogel (have a look at some of our previous tutorials)
In this system we create a transparent oleogel in a nonaqueous system (hence no preservative needed) which turns to milk by adding water to it (the oil emulsifies by adding water to an easy to rinse O/W emulsion). The emulsion is easily rinsed-off with a lovely and non-greasy skin feel after rinsing. This system was quite versatile and one could create hundreds of formulations varying in viscosity from a pourable bath or shower oil to a high viscosity gel mask.
Hundreds of our readers around the world worked with and loved in this system and many of our customers even designed products based on this system and went through the annoying paperwork and process of safety assessment and product registration (mandatory in the EU and some other parts of the world). The whole system was based on a "natural" emulsifier blend under the trade name of Dermofeel ® G 5 O and the INCI name of: Polyglyceryl-5 Oleate, tocopherol, helianthus annuus (sunflower) seed oil.
Well, so far so good and everybody was happy till last year the manufacturing company has announced that because of some regulatory affairs, they are going to discontinue the production of this ingredient in 2018. It caused a great disappointment among our customers and all other "natural" formulators who were working with this amazing ingredient but since the big-boys who purchase the ingredients in tons are not interested in this system, the sales profit from this ingredient do not justify the costs for the regulatory affairs.
Anyway, we stopped stocking this emulsifier and informed our readers and customers that this ingredient would not be available anymore. As you can probably imagine, we received tens of inquiries per day about this ingredient and people asking us when and how a replacement would be available. As to my knowledge, the manufacturing company of Dermofeel ® G 5 O, Evonik, Dr. Straetmans has not yet any substitite for this ingredient but we have been searching around the world and testing different ingredients for you and now we're ready to share our findings with you.
Let me explain a few points before I proceed and jump to the tutorial.
1- This is not an exact substitute for Dermofeel ® G 5 O although we are quite satisfied with the results, neither the raw material, nor the procedure or the finished product are exactly the same or a 1:1 substitute (according to Jilly, you can not compare pear and apple)
2- There are two major drawbacks for this system compared to the old oleogels we've made:
a- this is a hot process meaning both the glycerine and the oil phase should be kept at around 70 oC (in plain English, you can not use sensitive oils and extracts here)
b- You can not manipulate the viscosity the way you could in the old system. In the old system you could vary the viscosity between a flowing oil to a thick gel by just varying the glycerine concentration but in this new system all you can get is a kind of gel.
3- You can vary the glycerine concentration between 25-60% (with no major variation in viscosity)
4- Since this is a hot process, you can use butters and waxes as well as oils in the formulation
5- You can keep about 10% of the formulation and post add it during cool down. This means you can use some heat sensitive oils and extracts and add them as the sytem is cooling down.
6- The emulsifier we're using for this system is,
guess what?
The good old "sucrose stearate" which is actually a cold process O/W emulsifier. Now you may ask: do other emulsifiers work like this? You are very welcome to test every single emulsifier under the blue sky but as far as our experience goes, only sucrose stearate and sucrose palmitate did the job.
Read our previous blog post about why not every O/W emulsifier creates a self-emulsifying system
If you've read all the blurb above and still are curious to test this system, follow me through the tutorial. As always, I recommend that you keep your first formulations as simple as possible (KISS principle) and then if you liked the process and product, expand your formulation to more complicated ones.
Here we go
Formulation:
Phase A
Organic and palm-free (99,8%) glycerine 55,0%
sucrose stearate 2,0%
Phase B
Carrot oil 15,0%
Ojon oil 16,4%
Natural tocopherol 0,5%
Phase C
Organic peach kernel oil 10,0%
Organic grapefruit essential oil 1,0%
Oranic rosemary CO2 extract 0,1%
Procedure:
1- Blend glycerine and sucrose stearate in a beaker. The dispersion would be easier and better if you keep this beaker at room temperature for 1-2 hours before heating it.
2- Blend all the ingredients of phase B and C is separate beakers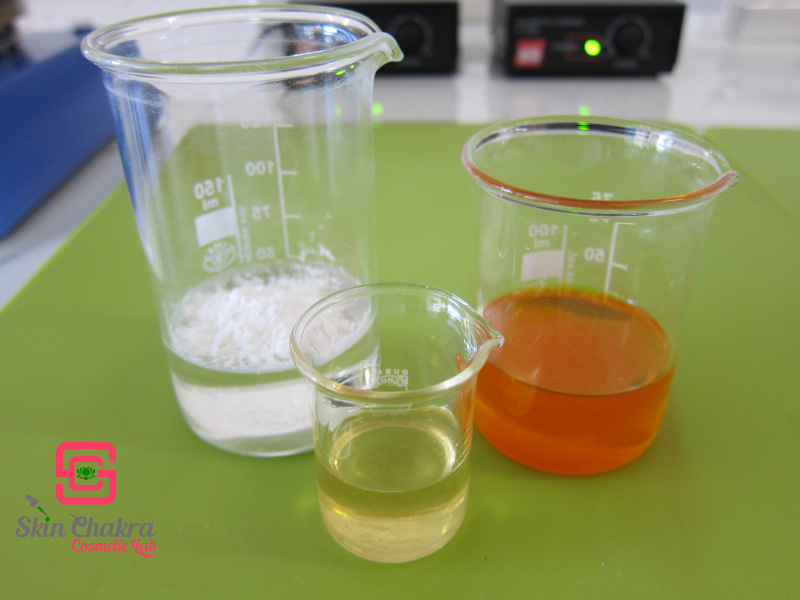 3- Put both phases A and B in the water bath at around 70-75 oC.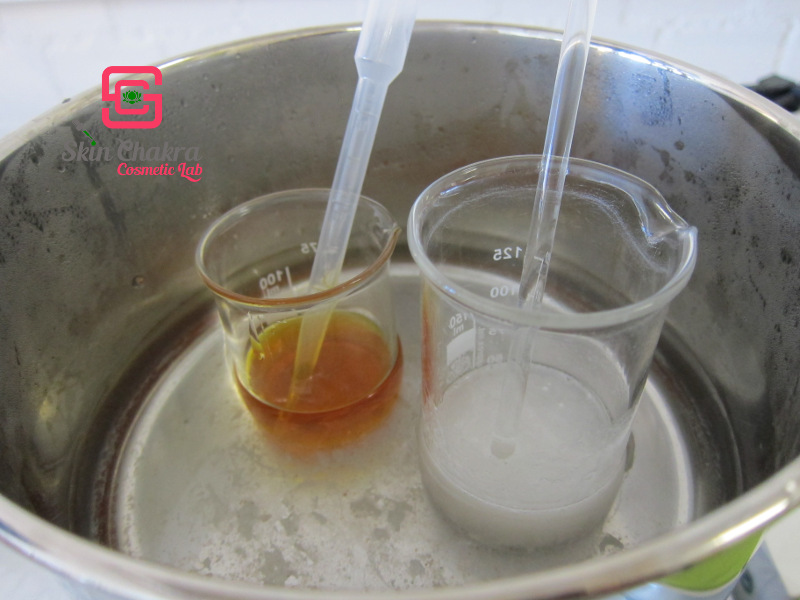 Sucrose stearate would neither melt nor dissolve in glycerine, it just swells to make a kind of white paste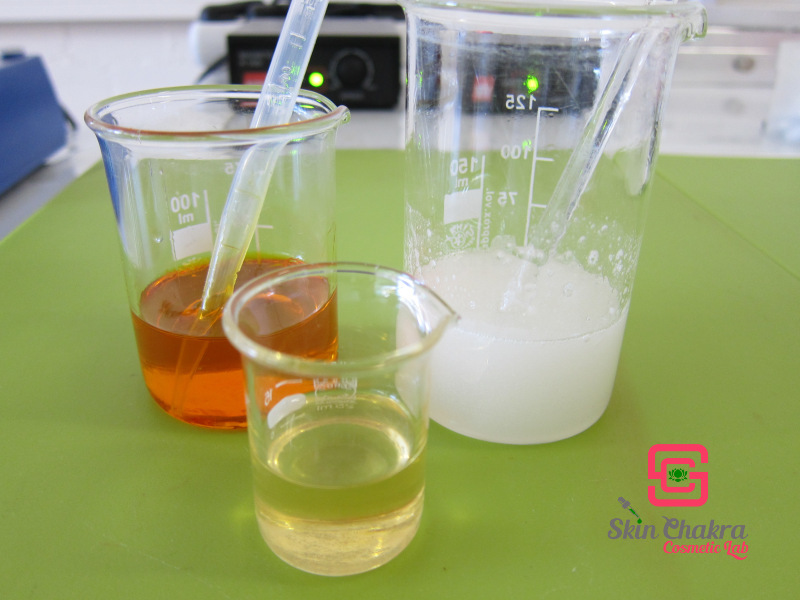 4- Slowly and little by little add the oil phase to the glycerine phase (both beakers are still in the water bath). Blend completely before adding the next aliquot.
5- After the whole oil phase is added to the glycerine phase stop heating and remove the beaker from the bath. Stir gently to avoid foaming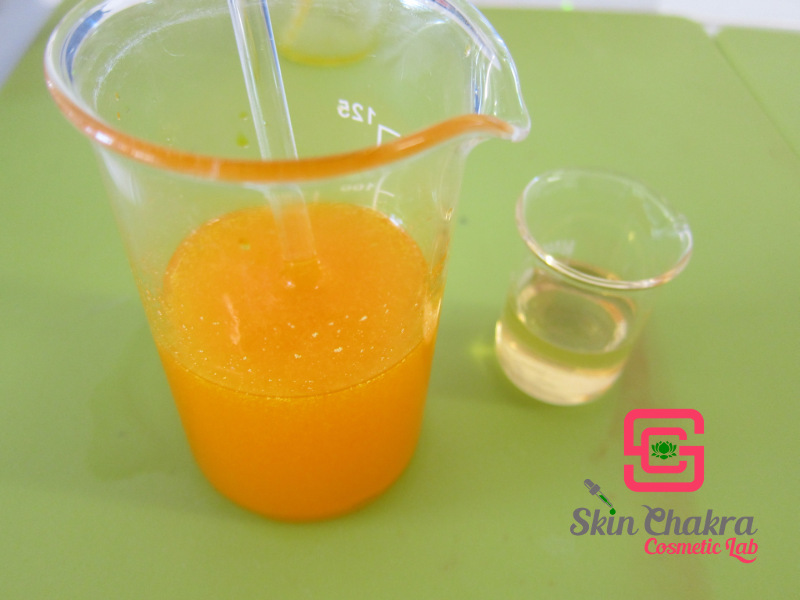 6- Stir further till the temperature drops <40 oC. Now add the cold oil phase which consists of your heat sensitive oils, plant extracts and the essential oils.
7- The product has a viscosity between a rich cream and a gel. You can pour it in a tube, a squeeze bottle or a cream jar. Cream jar is probably not the best solution because adding water to the content is inevitable and hence:
a- the microbial stability of the system would be compensated
b- the appearance of the product changes because it turns to a milk by adding water
8- Keep in mind that the viscosity increases as the product cools down, it is easier to fill it as long as it is still warm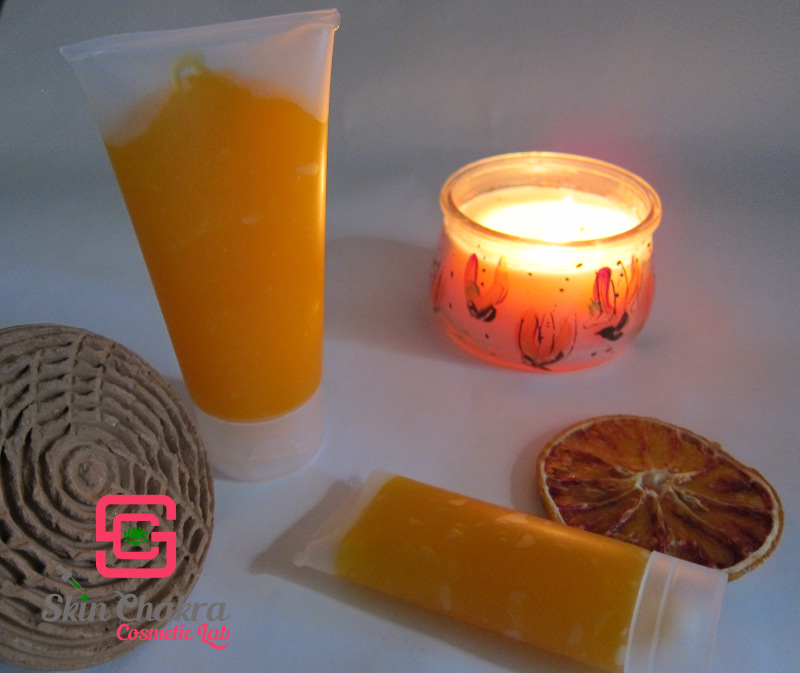 I do hope you enjoy making and using this oleogel. I assume you're going to have tons of question. Please do not hesitate to send me your photos of the products (and failures) or questions. You can find us as always:
per mail
BeHappy and have fun
Comments
Display comments as (
Linear
| Threaded)
The author does not allow comments to this entry