Thursday, 8. July 2021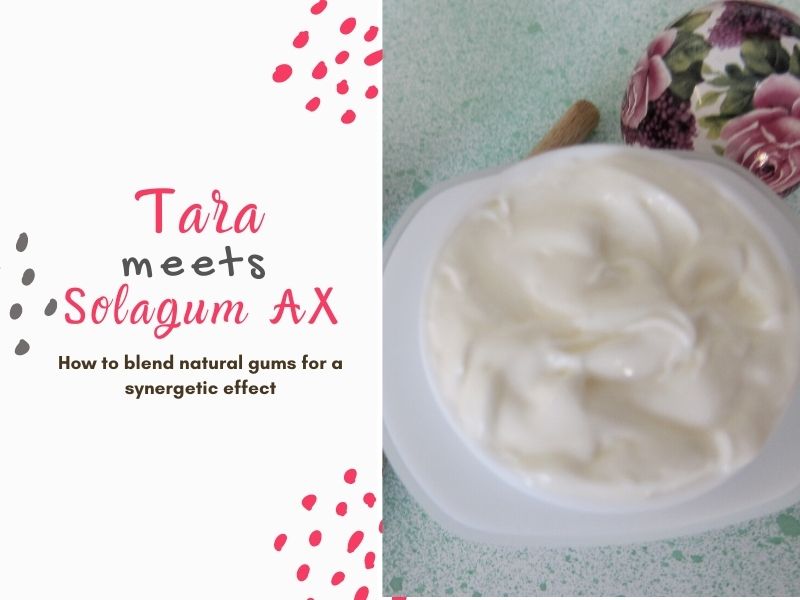 You can easily make stable and nice emulsions by using just one gum. Even the humble xanthan gum can create nice and stable emulsions. To jazz up your emulsions and bring them from "just OK" to "amazing" however, you usually need to blend more than one gum.
If you haven't read our previous posts about natural gums pause and go back and read these posts first before continuing:
Solagum AX that most of you are now using is a commercial blend of xanthan and acacia gum. It creates a lower viscosity than xanthan gum alone but creates an amazing texture and lacks the notorious soapiness of the xanthan. Apart from that:
acacia gum enables you to incorporate low concentrations of lipophilic ingredeints in a hydrophilic base without the need to use any emulsifier or solubilizer.
To jazz up emulsions made solagum AX, we tried to blend it with other gums that have a synergy with xanthan gum. In April this year we shared this blog post and video about blending Solagum AX with konjak gum. In today's post we are blending tara gum with Solagum AX. Tara gum is used in food, pharmaceutical and cosmetics for its excellent flow. It creates lower viscosities than xanthan gum but higher viscosities compared to Solagum AX. You can disperse and hydrate it cold but it reaches its full potential when you disperse and hydrate it around 70 oC. We have made two emulsions with the exact formulation and we just varied the remperature of hydration of the gum (look at the results below). There is a small difference in the viscosity and texture but you can absolutely disperse and hydrate the gum even at room temperature (when making cold process for example) without compromising the stability. Only the viscosity will be lower.
As always we kept the formulation KISS just to give you an idea for start and you can use your own creativity to jazz up the formulation and use your desired active and functional ingredients. In the video we only show you how to make one of these formulations but we have made various combinations and are sharing teh results with you as well.
Formulation:
| | |
| --- | --- |
| Phase A | |
| Distilled or deionized water | to 100,0% |
| Na- PCA | 2,0% |
| Aquaxyl | 2,0% |
| L-Arginine | 0,3% |
| Natural chelator PA-3 | 0,1% |
| Phase B | |
| Gum (read the remarks) | 0,4% |
| Phase C | |
| Polyaquol 2W | 5,0% |
| Tigernut oil | 20,0% |
| Natural vit E | 0,3% |
| Phase D | |
| Patchouli oil | 0,2% |
| Ylang-ylang oil | 0,3% |
| Versatile preservative TBG | 1,0% |
| Lactic acid | to adjust the pH |
Procedure:
1- Blend all teh ingredients of phase A in a heat proof beaker.
2- Disperse the gum and hydrate it @RT
3- Blend the oil phase in another heat proof beaker
4- Heat both oil and water phase in a water bath between 82-85 oC.
5- When both phases have reached the temperature and the oil phase is completely homogenous remove both phases from the bath, add the oil phase to the water phase and homogenize for a few minutes.
6- Start cooling down while stirring.
7- When the emulsion reaches the room temperature add the essential oils
8- Prepare a 10% dilution in distilled water and measure the pH. We are using a preservative system that reduces the pH and have added yome arginine to the water phase at the beginning. In our case the pH was 8,36
9- Add the preservative. Prepare another 10% dilution and remeasure the pH. The final pH must be between 5,2-5,5. In our case it was 6,84.
10- We added lactic acid to reduce the pH to the desired range. For a 100 gr batch we used 1 drop of 80% lactic acid. Then prepared another dilution and remeasured the pH. The final pH was 5,47.
11- Take your stability and micro kit samples and fill the rest in a suitable container.
You can watch the video here. In the video we used a blend of 0,1% tara gum and 0,3% Solagum AX.
These are the samples we made:
1- 0,4% SolagumAX, cold hydration
2- 0,4% tara gum, cold hydration
3- 0,4% tara gum, hot hydration
4- 0,1% Tara gum + 0,3% Solagum AX, cold hydration
5- 0,2% Solagum AX + 0,2% tara gum, cold hydration
6- 0,3% tara gum + 0,1% solagum AX, cold hydration
The results:
All of the samples are stable. There is a difference between the viscosity and texture. The viscosity is easily depicted on the diagram. To observe the changes in the texture watch the video.
Solagum AX imparts a light yellowish colour to the emulsion compared with tara gum. Adding tara gum creates a texture like whipped cream and imparts fluffiness to teh emulsions. Our favourite combo was the one with 0,1% tara + 0,3% solagum AX.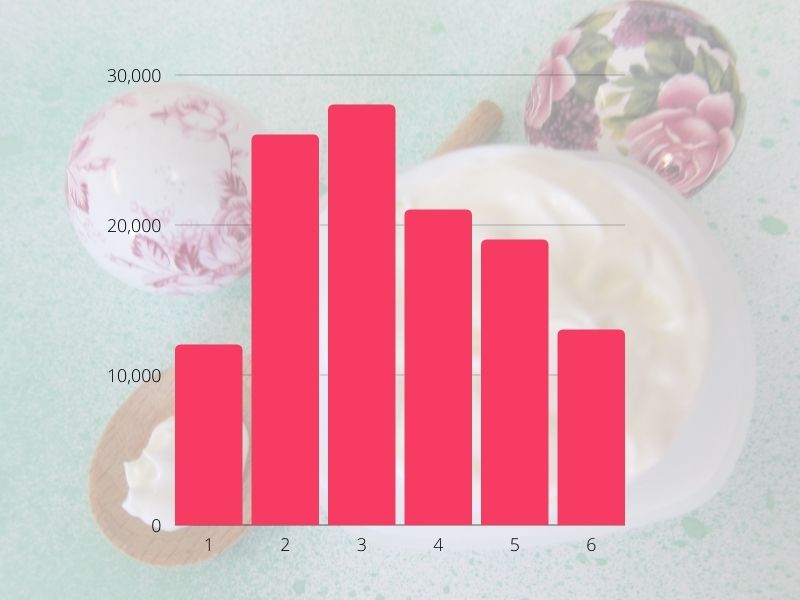 Stay safe and creative
Comments
Display comments as (
Linear
| Threaded)
The author does not allow comments to this entry