Donnerstag, 12. April 2018
Micellar waters are without doubt one of my favourite products for on-the-go.
If correctly formulated, they can replace a facial cleanser, a make-up remover and a facial tonic. It means, you pack just one ingredient in your suitcase instead of 3!!
Read our previous posts about micellar waters:
For this specific micellar water, I've tried a hibiscus hydroglyceric extract. When working with "natural" extracts for the sake of their colours (in addition to all functional anti-oxidants, minerals, polyphenols that they add to the formulation) keep in mind that:
1- the colour is usually extremely pH-dependant
2- the colour is usually much less photo-stable than synthetic colourants
It is obvious that we want to fill our products with such pretty colours in transparent containers to show-off their colour but at the same time, we'll compromise the stability of the product. Running detailed stability tests (specially photo-stability) when working with natural colourants is hence a fundamental step in product development. Hibiscus creates a very eye-catching intensive colour in water and in glycerine (infusion or hydroglyceric extracts) but the colour is notoriously unstable. Adding antioxidants and chelators such as natural chelator PA-3 can remarkable improve the photostability but it still can not make wonders.
Bottom line: When using colourful extracts in water containing products pay attention to an exact pH adjustment (and probable buffering of the solution), photostability and packaging of the product. You may use transparent containers but the shelf-life of the product would be compromised.
About this formulation:
This is a 2D (2-dimentional) hyaluronic acid product because I'm using hyaluron with two different molecular weight ranges. One is an oligo hyaluron which is an enzymatically hydrolyzed hyaluronic acid with a molecular weight range of less than 10 KDa. This low molecular weight hyaluron is extremely effective in penetration and smoothing the skin from inside.
The other is a high molecular weight hyaluron with a molecular weight between 1-1,8 M Da. This high molecular weight polysaccharide has no penetration. Instead of penetration, it improves slip and glide of the product as well as moisture absorption.
Hyaluronic acid, which we obtain as a sodium salt, is a polysaccharide consisting of acetylated glucosamine and glucuronic acid units. Previously it was derived from rooster's comb or embilical cord but almost todays total hyaluronic acid production is obtained microbiologically by fermentation reactions. Hyaluron is available in different molecular weight ranges (depending on how many sugar units are attached to each other). As a very general and simplistic rule, the lower the molecular weight, the easier its penetration in epidermis and the higher the molecular weight the more moisturization and slip of the product. For an effective formulation, we usually blend 2-3 different molecular weight ranges of hyaluron in a given formulation.
Formulation:
| | |
| --- | --- |
| Phase A | |
| Melissa hydrosol | to 100,0% |
| high molecular weight hyaluron | 0,1% |
| oligo hyaluron | 0,1% |
| Phase B | |
| Cornflower hydrosol | 30,0% |
| Hibiscus hydroglyceric extract | 5,0% |
| Vegeluron | 3,0% |
| Algae extract | 2,0% |
| Sodium lactate | 2,0% |
| Sodium PCA | 2,0% |
| Aloe leaf juice powder | 1,0% |
| Caffein powder | 0,5% |
| Natural chelator PA-3 | 0,1% |
| Allantoin | 0,1% |
| Phase C | |
| Proteol APL EF | 3,0% |
| Oramix L30 | 3,0% |
| Phase D | |
| Preservative 1388 eco | 2,5% |
| Versatile preservative BL | 0,5% |
| Lactic acid 80% | to adjust the pH |
Procedure:
1- Disperse hyaluron in melissa hydrosol. A magnetic stirrer or an overhead mixer work perfectly.
2- Blend phase B in a beaker. You can use a magnetic stirrer to disperse the powders one after another in the hydrosol. Add phase B to phase A after the hyaluron is perfectly dissolved.
3- Add phase C (surfactants). Stir gently to avoid foaming
4- Prepare a 10% dilution and measure the pH. In our case it was 5,30 and we could add the preservatives (1388 eco and versatile preservative BL. The pH should be at least 5,2 when you add the preservative.
5- Add the preservative. Prepare another 10% dilution and measure the pH again. In our case, it was 5,5 which is just in the range but we added lactic acid to reduce it to 5,3. The final pH should be between 5,2-5,5. Use lactic acid or L-Arginine to reduce or increase it if necessary.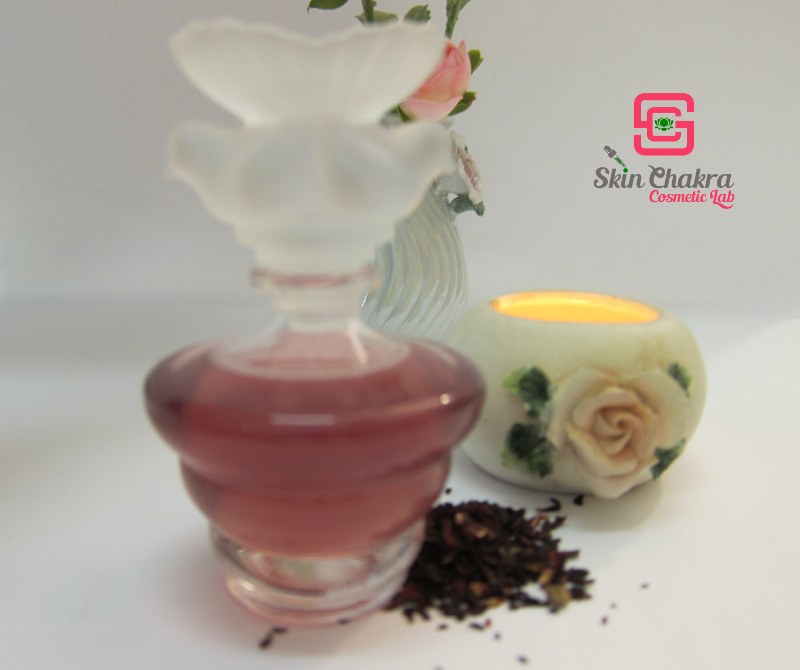 6- Take your stability and microkit samples and fill the rest in a suitable bottle.
Enjoy the luxurious feel of this micellar water.
BeHappy and have fun
Kommentare
Ansicht der Kommentare: (
Linear
| Verschachtelt)
Die Kommentarfunktion wurde vom Besitzer dieses Blogs in diesem Eintrag deaktiviert.