Thursday, 25. October 2018
During the last 12 months, we have shared several deodorant formulations with you and we are still testing new active ingredients and plant extracts in different deodorant formulation. Among all personal care products, natural deodorants are the most personal ones. A formulation that works perfectly for a certain individual might fail by another.
If you are really willing and interested to use natural deodorants, you may need to test different formulations until you find something that works for you. I shall warn you that the transition from conventional to "natural" deodorant is a challenge and it takes a long period till your skin (and your microbiome) adapts itself but once you're over this transition period, you'll never look back.
As a chemist, I'm not afraid of aluminium salts or alcohol or even parabens and I have been using conventional deodorants for decades until my skin became so sensitive that I reacted to everything I could get my hands on, even "natural" and "hypoalergenic" products on the market (heaven forbid! I have never tried any deodorant with baking soda). This is why I was determined to make a deodorant that would work for me and this is why I spent a lot of time during the last two years (still no end) to make and test different formulations. It was just a survival strategy. Among all products that I have made, I love the biphase form the best and the stick form is my second favourite. There are other people who prefer the balm or the oil. It is quite a personal matter and a matter of convenience. This is why I emphasize that you need to make and test different formulations till you want one that works best for you.
This formulation, was inspired by jilly's latest deodorant tutorial but before I jump to the formulation and tutorial, I recommend that you go back and read our previous posts about natural deodorants:
The most FAQ about these formulations (and specifically about the formulation I'm going to share now) is:
do these doeodrants stain your clothes or your skin?
The answer is: after almost two years of testing these formulations, I have never had any issue with the staining.
Grab your ingredients and follow me for this skin friendly and effective deodorant
Disclaimer: As we have previously explained, these formulations are deodorants and no anti-perspirants. They don't keep you completely dry but they don't let you stink even after physical activity and intensive sweating.
Formulation:
| | |
| --- | --- |
| Phase A | |
| Myrica fruit wax | 22,0% |
| Rice bran wax | 8,0% |
| Cupuacu butter | 5,0% |
| Sunflower lecithin | 0,5% |
| Glyceryl caprylate | 0,5% |
| Ascorbyl palmitate | 0,3% |
| Phase B | |
| Babassu oil | 9,0% |
| Calendula CO2 extract | 0,1% |
| Phase C | |
| Isoamyl laurate | 5,0% |
| Triethylcitrate TEC eco | 5,0% |
| Deodorant active decalact deo | 1,0% |
| Evening primrose CO2 extract | 1,0% |
| St John's wort oil | 1,0% |
| Tamanu oil | 0,5% |
| Tocopherol | 0,5% |
| alpha bisabolol | 0,2% |
| Rosemary CO2 extract | 0,1% |
| Sage CO2 extract | 0,1% |
| Ajowan CO2 extract | 0,1% |
| Antimicrobial plant extract | 0,1% |
| Manuka oil | 0,1% |
| Patchouli oil | 0,1% |
| Peppermint oil | 0,1% |
| Cedarwood oil | 0,1% |
| Lemon zest oil | 0,1% |
| Phase D | |
| Lexfeel Natural | 27,2% |
| Modified rice starch | 10,0% |
| allantoin | 2,0% |
| activated charcoal | 0,3% |
Procedure:
1- Wight each phase separately in a beaker.
2- Heat phase A in a water bath at aroun 80 oC. This temperature is need for ascorbyl palmitate (Vitamin C). If you're working without ascorbyl palmitate, adapt the temperature to your wax with the highest melting point.
3-Babassu oil and calendula extract become solid in winter and semi liquid to liquid in summer. If you're working in a cold lab and they are solid or semi-solid heat phase B gently in a water bath @ ca. 30 oC until they melt. If you are working in a warm lab and they are liquid avoid this step.
4- After phase A is melted stop heating but do not remove the beaker from the bath. Add melted phase B and blend.
5- Add phase C and blend.
6- The powders in phase D do not dissolve in lexfeel natural. You need to stir this phase to keep them suspended. Now add phase D to teh rest of the blend and immediately pour into stick molds.
7- Put the sticks in the fridge for at least 12 hours (we let them stay overnight).
8- Remove from the fridge and close the lids.
9- Enjoy using this natural and mild deodorant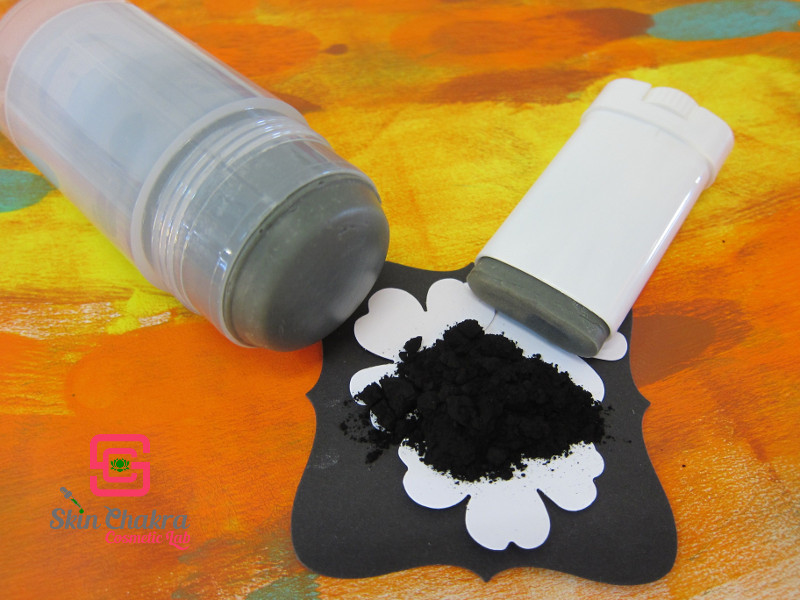 BeHappy and have fun
Comments
Display comments as (
Linear
| Threaded)
The author does not allow comments to this entry