Thursday, 6. December 2018
It's quite odd that we have been selling tons of a "natural" cationic surfactant during the last three years but we have not have any tutorial for a conventional water-based hair conditioner. We have however shared some tutorials for non-aqueous hair conditioners and if you've just stumbled upon our blog I suggest you first go and have a look at them:
About hair conditioners:
There are two approaches to hair conditioning:
1- Hair conditioning using a cationic surfactant
2- Hair conditioning using a non cationic emulsion
these approaches work in different ways but both could be effective. Although there are millions of "natural" hair conditioners available based on the second approach, the conditioners based on the first approach are quite rare.
1- Hair conditioning using a cationic surfactant
Hair (and wool and many other natural and synthetic fabrics) usually have a negative charge. Cationic surfactants attach to the negative charge to counteract it. To be more specific, in a hair conditioner, the cationic surfactant attaches to the keratin with its hydrophilic head and the hydrophobic tail dangles around. The whole molecule imparts antistatic, anti-frizz, lubricity, anti-friction and shine to the hair and makes combing of wet and dry hair easier.
2- Hair conditioning using a non-cationic emulsion
These emulsions impart lubricity and anti-friction (but not necessarily anti-static properties) to the hair and they do not attach to hair keratin as the cationic do (you may find it as an advantage or disadvantage depending on your point of view) and just sit on top of the hair fibers. They work the same way to use oil to lubricate a hinge.
No matter which concept you choose to follow, always keep in mind that you need to avoid build-up and a greasy appearance after the hair is rinsed. Too much oil in a conditioner will cause fast re-greasing (absorption of dirt) and an unhealthy appearance.
Cationic surfactants
Please have a look at our previous blog posts about surfactants before you proceed:
---
Hair conditioning world was monopolized by quarternary ammonium compunds till a couple of years ago and this is why "natural" hair conditioning is still in baby shoes.
Quarternary ammonium compounds are a huge family of ingredients but the base is a Nitrogen atom connected to 4 side groups (in ammonium ion we have a Nitrogen atom connected to 4 hydrogen atoms)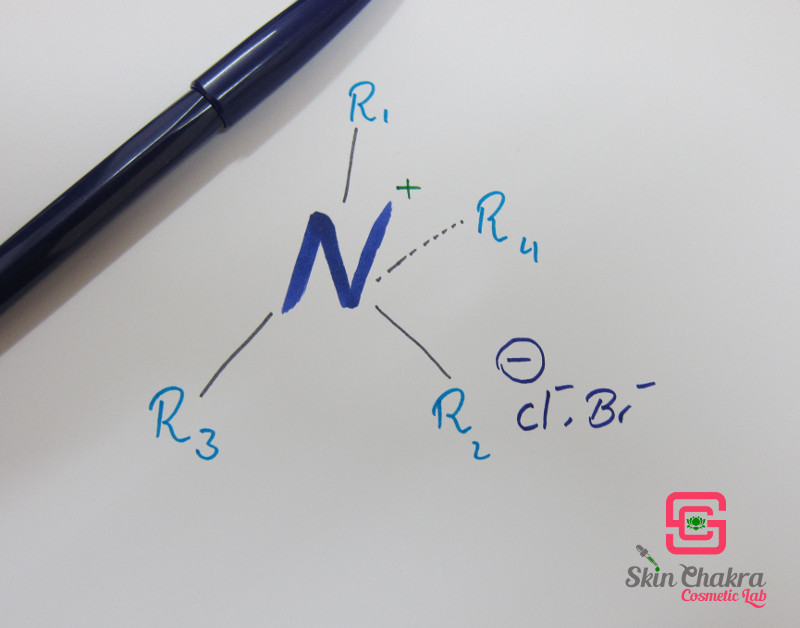 This is a very simplistic model but will help you understand the concept. The molecule is 3 dimentional and doesn't rest flat on the surface. If the Nitrogen in the center of the molecule and R1, R2, R3 all lay flat on the surface of the paper, R4 would dangle under the surface. Since no cation exists without an anion (electroneutrality principle), quarternary ammoniums have a counter ion (usually chloride or bromide).
Depending on the nature of the R group, the quarternary ammonium will have slightly different properties and completely different applications varying between:
anti bacterials and disinfectants (in a broad range of industries from kitchen to dentist's pratice. I'm sure you have heard about or read the name "benzalkonium chloride" somewhere)
Hair conditioners and detanglers (natural Betaine, trimethyl glycine is one of the simplest quarternary compounds and is used in shampoos and other hair care products as a detangler, antistatic and conditioning agent)
Fabric softener
antistatics
to name a few applications.
Regardless of the molecule size and its applications, almost all cationics have something in common:
1- Poor biodegradability
2- Skin sensitization
(This is why quarternaries, even the one and only (so far) plant based compound is not popular in "natural" hair care)
Now coming back to our own cationic surfactant which is the only and one (up to this point) non-quarternary and plant based cationic surfactant used in natural hair care:
Emulsense™ HC
INCI Name: Brassicyl Isoleucinate Esylate (and) Brassica Alcohol
is a monomeric cationic surfactant (palm-free and ecocert certified) and although it is a lovely ingredient to work with, there are some points that you need to consider when working with this ingredient:
1- Procedure:
You can add emulsense HC to the oil/butter phase and heat the oil and water phase separately (70-75 oC) and then blend the two phases in the traditional way you make an emulsion.
You can proceed via one-pot method and heat your oil and water phases in the same beaker from the beginning. This procedure is very helpful if you're making your first trials and are working in small batches (<100 gr)
After the oil and water phases are heated and all of the emulsense, butters and waxes are melted, you'll blend the oil and water phase exactly the same way you proceed with an O/W emulsion. (Add the oil phase to the water phase).
2- Temperature
You certainly don't want to overheat your ingredients but you don't want to underheat them as well. As per my experience, emulsense HC doesn't like under heating. You may create a good-looking conditioner but that will nit remain stable for a reasonable time. Keep an eye on your thermometer and try to keep the temperature between 70-75 oC (water bath)
3- Other ingredients
Emulsence HC
is not an emulsifier and you can not create a stable conditioner with a high oil content (and you don't need that either). Keep the oil phase content (minus the emulsence itself) under 5%.
I usually add
babassu oil
,
cupuacu butter
and
myrica wax
to my formulations. Myrica wax improves stability and imparts a lovely texture to the product and shine and volume to hair. You may decide to use other oils, butters, waxes or even fatty alcohols.
Fatty alcohols like cetyl and stearyl alcohol improve the stability but are not necessary.
Keep in mind that cationic surfactants are not compatible with anionic surfactants. You can not use Emulsense HC in a 2in1 shampoo if you are using anionic surfactants in the shampoo (which you usually do) but you can create a cleansing conditioner with nonionic surfactants (a tutorial will follow).
Since Emulsence HC is not an emulsifier on its own, I usually add 1-2%
coco-glucoside, glyceryl oleate
to the water phase to reduce the surface tension. It is not only an emollient, it improves or facilitates blending the oil and water phase to an emulsion (specially if you don't work with a homogenizer).
Adding glycerin to the water phase (3-5%) improves the stability.
4- pH
Hair conditioners have a lower pH that every-day skin care products and shampoos. The pH of a conditioner made with Emulsense HC would be around 3,5 (depending on what other ingredients you use in the water phase). This pH is just a little bit too low and could be irritating to skin and eyes during rinsing. To increase the pH between 4,0-5,0 you need to apply a base.
I honestly have no idea about the reason but we have tested both NaOH and baking soda to increase the pH and they didn't work with Emulsense HC. The only possible way to increase the pH (suggested by the supplier and tested and verified by us) is applying
Arginine
. L-Arginine is a natural amino acid with a high pH which is used in pharmaceuticals as well as in food supplements. It is a white powder and is slightly soluble in water. You can post-add arginine at the end of the process (the way you adjust the pH of a skincare product) or you can add it to the water phase from the beginning. For this purpose you need a few "trial and horror" runs to figure out how much arginine you need to add at the beginning but it works much better than post-addition.
5- Dosage
You can create conditioners with as low as 5,0% emulsense. The higher the dosage of emulsense, the higher the viscosity of the final product. I wouldn't exceed 7,0% for a normal conditioner. For a conditioning cream-mask a 10,0% dosage is more suitable and for non-aqueous conditioners you can use up to 16,0%.
Keep in mind that the viscosity increases within 24 hours after preparation and do not judge the viscosity immediately after cool down.
6- Preservation
This is probably the biggest hassle of working with Emulsense HC. The supplier recommends using
Spectrastat G2-N
(INCI: Caprylhydroxamic acid & glyceryl caprylate & glycerin) which is one of the few "natural" preservatives with a pH-independent performance. Both Emulsense HC and Spectrastat G2-N are made by the same company. In addition to the fact that most other preservatives have a pH-dependent performance and they do not work at the pH of a conditioner (Dermosoft 1388 eco, Euxyl K903, Versatil BL, Versatil TBG and many other commercial blends), they just don't work in this system. They all cause a colour change (which means a destabilization) within a few days. According to our experience and knowledge, Spectrastat G2-N is the only available preservative (up to this point) working in this system.
So far, so good
BUT
Spectrastat G2-N is incompatible with iron (according to the supplier). This means, you can not use this preservative with many natural ingredients. These include:
aloe
hydrosols
most hydrophilic extracts and plant powders
This means you need to avoid these ingredients in your hair conditioner when your conditioner is based on Emulsense HC.
Do not be disappointed and do not throw this lovely ingredient into trash. There is no shame in simplicity.
According to Leonardo da Vinci:
Simplicity is the ultimate sophistication
Keep your lovely natural extracts and hydrosols for other projects and create simple but effective rinse-off conditioners with emulsence HC.
We have a KISS formulation example for you:
| | |
| --- | --- |
| Phase A | |
| Freshly boiled distilled water | to 100,0% |
| L-Arginine | 0,3% |
| coco-glucoside, glyceryl oleate | 2,0% |
| palm-free Glycerine | 5,0% |
| Phase B | |
| Emulsense HC | 6,0% |
| Myrica fruit wax | 1,0% |
| PCA-Glyceryl oleate | 1,0% |
| Lexfeel natural | 1,0% |
| Cupuacu butter | 0,5% |
| Natural vit E | 0,5% |
| Phase C | |
| Spectrastat G2-N | 0,7% |
| Ylang-ylang oil | 1,0% |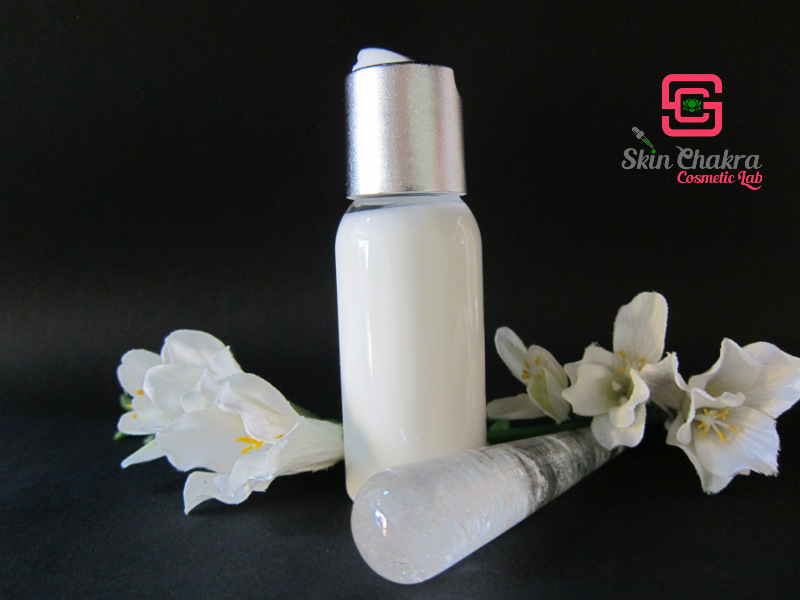 Procedure:
1- Heat phase A and B separately in a water bath @ ca. 75 oC.
2- When all of phase B is melted stop heating and add phase B to A while stirring
3- homogenize for a few minutes and start cooling down while stirring. Stirring during cool-down is very important for a nice texture and stable conditioner
4- After the temperature has reached around 30 oC add the preservative and the essential oil.
5- Prepare a 10% dilution in distilled water and measure the pH. In our case it was 4,2. You made get another pH depending on the ingredients you use.
6- Take your micro kit and stability samples and fill the conditioner in a suitable bottle or tube.
7- Enjoy the luxury of a KISS formulation
BeHappy and have fun
Comments
Display comments as (
Linear
| Threaded)
The author does not allow comments to this entry