Sunday, 14. April 2019
Even after more than 20 years of formulating, whenever I receive a new ingredient, I start playing with KISS formulations to know that ingredient in and out. It helps saving precious ingredients, sparing some frustration and knowing different aspects of the ingredient. Between us, some of these KISS formulations are much more amazing than complicated formulations with knock-knack ingredients.
Anyway, since we've recently added PolyAquaol 2W to our portfolio of natural and plant based emulsifiers, I'm sharing a KISS formulation I made with this ingredient for those of you who need some starting point or an inspiration. (Read this blog post first if you have never worked with PolyAquol 2W).
As you can see on the photo, this KISS formulation turned out quite lovely, with an outstanding stability and lovely texture and skin feel.
It is always possible to jazz up a simple formulation after you feel satisfied and confident with a certain formulation. So let us jump into the formulation and ingredients for this KISS emulsion.
Ingredients:
| | |
| --- | --- |
| Phase A | |
| Distilled or deionized water | to 100,0% |
| Organic glycerine | 3,0% |
| Plant based pentylene glycol | 3,0% |
| L-Arginine | 0,15% |
| Natural chelator PA-3 | 0,1% |
| Phase B | |
| Solagum AX | 0,3% |
| Phase C | |
| Poppy seed oil | 22,5% |
| Olive squalane | 2,0% |
| Tocopherol | 0,5% |
| PolyAquol 2W | 5,0% |
| Phase D | |
| Euxyl K903 | 0,9% |
| Sweet orange oil | 1,0% |
One important point before we start
Before I start, I want to make a notice about the presence of L-Arginine in phase A. We're using Euxyl K903 as the preservative and we know that it drops pH. After a few "trial & horror" sessions, we came to the required concentration of arginine for a final pH of 5,2-5,3.
This is why I always emphasize that you prepare a very small batch as the first trial and notice all the ingredients you're using. Arginine is a powder and it disperses much better at the begining and in the water phase than when you post-add it at the end. If you are using other ingredients and specially if you're using another preservative system you may need other quantities or you may even need to reduce the pH with an acid at the end.
For more information and for refreshing your knowledge about pH measurement and adjustment please refer to these previous posts:
Another important point: (apparently I can not count, we have now 2 important points)
I have dispersed solagum AX directly in the water phase and before heating and before emulsification. You can either proceed this way or blend the gum and glycerine and disperse it before or after emulsification. Depending on your batch size and the instruments you use you may find one way more effective than another. Run different tests to find out which one you prefer.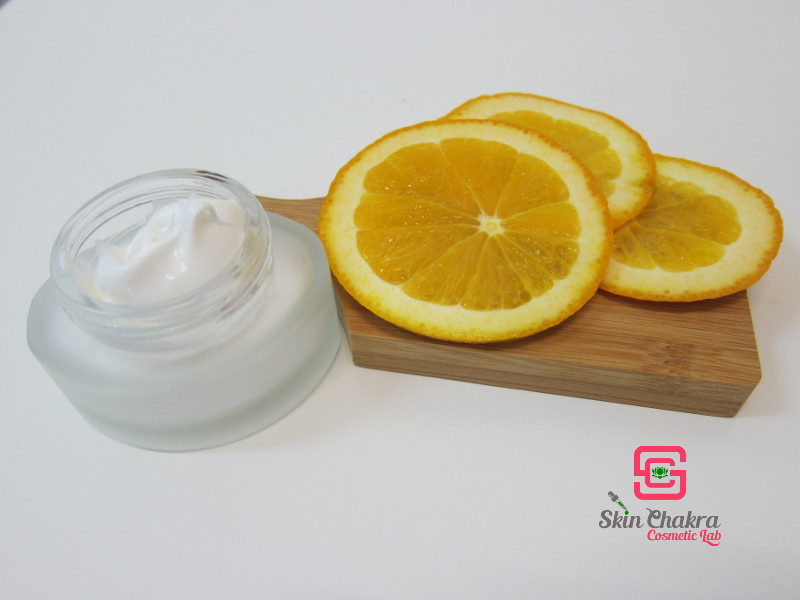 Procedure:
1- Weight all of the ingredients in phase A (read the above paragraph about L-Arginine) in a heat proof beaker.
2- Disperse Solagum AX in the water phase
3- Now heat both phases (A+B and C) in a water bath at 80-85 oC. When all of phase C is melted and homogen remove the beakers from the bath and slowly add the oil phase to the water phase while stirring the water phase
4- Homogenize for a short 1-4 minutes
5- Continue stirring while cooling down
6- As the temperature reaches around room temperature prepare a 10% dilution of the emulsion in distilled water and measure the pH. In our case it was 7,9 and we could add the preservative. Depending on the material you use and the preservative, you may achieve another pH.
7- Adjust the pH if necessary before adding the preservative. Re-measure and re-adjust the pH after adding the preservative. In our case, the pH was 5,3 and we didn't need to adjust the pH anymore.
8- Add the essential oil and blend.
9- Take your stability and micro kit samples and fill the rest in a suitable jar.
BeHappy and have fun
Comments
Display comments as (
Linear
| Threaded)
The author does not allow comments to this entry