Donnerstag, 5. September 2019
Starch has a long history in personal care and cosmetics. Actually before even the terms "personal care" and "cosmetics" were defined, men and women in the far east used starch as a face powder for a porcelain-like complexion as a sign of aristocracy and nobility.
Fast forward to 19th century and starch was broadly replaced by the much cheaper and easier to obtain talc. However starch remained a popular ingredient in most home made and DIY products (mainly food grade starch: rice, potato, corn and tapioca)
In order to improve the physicochemical properties, the sensivity to microorganisms, skin feel and stability of the products, modified starch came on the market which was specifically designed for cosmetic formulations.
In this post I'm exclusively referring to a modified rice starch, di-starch phosphate, which is a vegan, naturally derived, non-GMO and COSMOS certified ingredient that we're stocking in our online shop since 2017.
Properties:
Starch is not equal to starch. That must be clear to everybody who has ever tried to swap rice, potato, corn and tapioca in a pudding recipe. The particle shape and size makes a great difference in skin feel as well as physicochemical properties.
Rice starch has the finest particle size compared to corn, tapioca and potato starch.
This lower particle size not only causes a smoother and silkier skin feel, it increases the surface area leading to exceptional adsorption and absorption.
This is a diagram of the particle size of rice, corn and tapioca starch in comparison.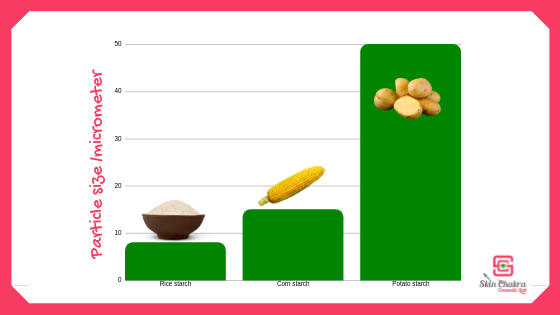 Why modified starch?
What is modified starch at all?
Starch is a natural polysaccharide consisting of amylose and amylopectin units. Modified starch (we're only referring to the di-starch phosphate) consists of starch molecules being cross linked with a phosphate group. Native starch consists of 0,04% P. Cross linked rice starch consiste of 0,04% P with ca. one phosphate link to 620 glucopyranose links (it sounds more complicated than it is. If you detest the chemical details, simply imagine that two starch molecules are connected via a phosphate bridge)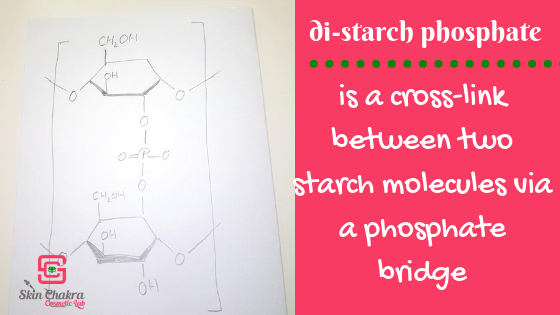 The result is a safe product (a food additive E 1412) with superior properties to the native starch (otherwise nobody would go through the pain of creating this bridge)
The modified starch creates a higher viscosity in water (not very relevant for us but quite important in the food industry), has an improved water and oil absorption capacity (as well as odor absorption capacity) and improved texture and stability.
INCI Name: Distarch phosphate
CAS Nummer: 55963-33-2
EINECS Nr.: 232-679-6
Why add starch to a cosmetic formulation?
There are 1001 reasons why you shall try adding starch to your cosmetic formulations. Let's mention some of them:
Water absorption and adsorption
Adding starch to products such as body/baby powder, facial powder, mineral make up, deodorants, foot powder, foot cream and co helps keeping the skin dry (absorbing moisture and perspiration)
Oil absorption and adsorption
Adding the rice starch to the cleansing powder imroves the skin feels, reduces clumping and improves deep cleaning properties as well as a light exfoliant effect
Adding the starch to masks (specially those for greasy and acne prone skin) improves skin complexion and helps sebum control
Adding the modified starch to your balms and butters imparts a luxurious dry, powdery skin feel (reduced greasiness) while the skin still benefits from all those pampering oils and butters. You can even achieve a cream-to-powder texture and skin feel.
In facial powders, dry shampoo, body powder, mineral makeup, compact powder, eye shadow etc. rice strach absorbs unwanted oil and has a mattifying effect and improves the wear (long lasting)
In creams and emulsions it imparts a dry touch and a silky feel to the emulsion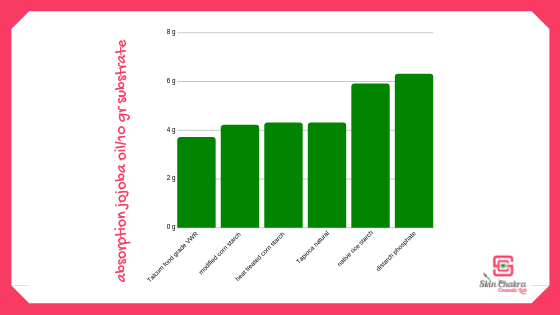 adding rice starch to deodorants, body powder, dry shampoo, baby powder, foot powder or foot balm as well as foot creams helps reducing/eliminating unwanted body odor
Apart from all the above benefits, adding rice starch to lotions and creams will improve the skin feel and texture to unbelievable dimensions. This is something we can not catch in a photo or a video and you must test the sensory yourself.
The impact on viscosity is not much. Depending on the emulsifier, sometimes the rice slightly reduces or increases the viscosity. The impact on colour is not much as well, unless you work with oils with a very intensive colour. The skin feel, texture, smoothness and spreadability of the emulsion changes enourmously how ever.
In the following examples, I have prepared KISS formulations with two easy to work emulsifiers:
GSC palm oil free and Olivem 1000. You may observe a very slight difference in the texture from the photos but the real difference is in skin feel and that couldn't be captured in photos or videos.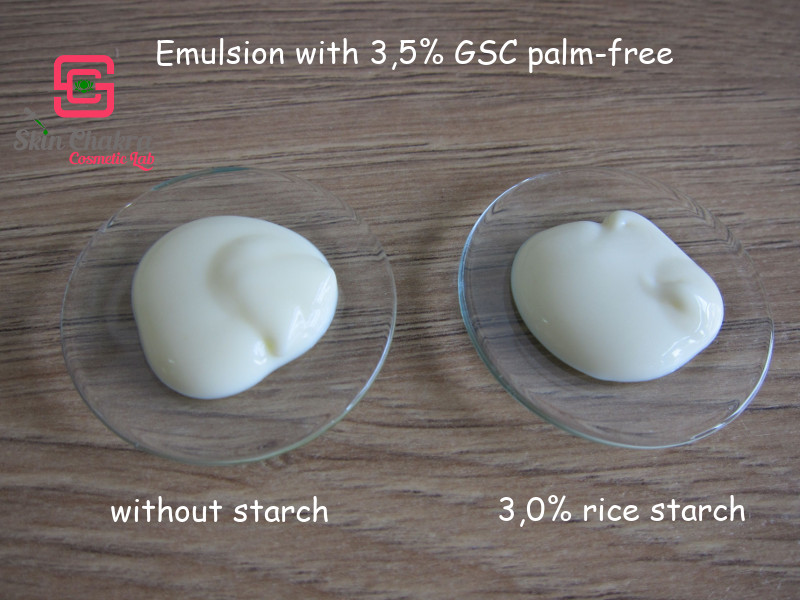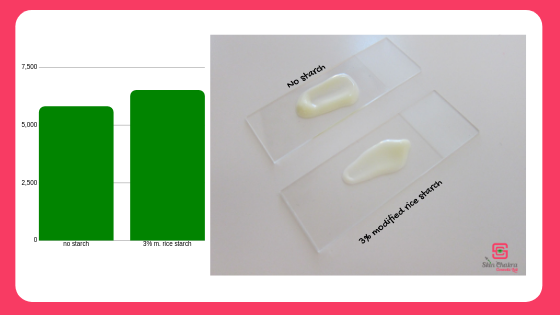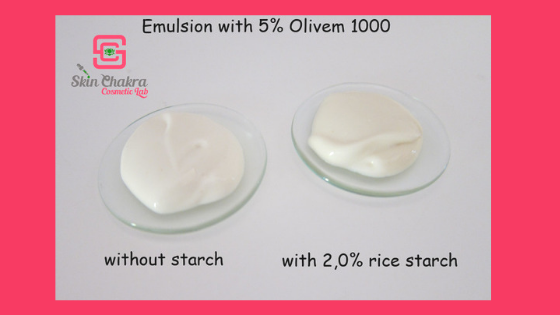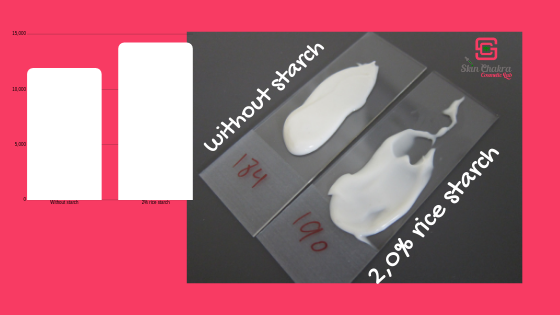 How to work with the modified rice starch
Our starch is neither oil nor water soluble but it is a heat resistant (boiling resistant) ingredient.
1- Balms, butters, deodorant sticks (oil based), lotion bars etc.
Blend the starch in a part of the oil phase and add this at a light to heavy trace to the blend and then put the blend in the fridge to cool down
2- Powders
blend with the rest of the fillers from the beginning
3- Emulsions
You can add the strach to the water phase or to the oil phase. Just keep in mind that it should be incorporated BEFORE emulsification. In the above examples I have added it to the oil phase
Application dosage:
Powders: 10-80%
Balms, butters, deodorant, lotion bar: 1-20%
Emulsions: 1-5,0%
Link to some of our sample formulations:
Further reading:
Toxicological evaluation of some food additives including anticaking agents, antimicrobials, antioxidants, emulsifiers and thickening agents
Reevaluation of some starch derivatives
BeHappy and have fun
Comments
Display comments as (
Linear
| Threaded)
The author does not allow comments to this entry