Tuesday, 7. May 2019
I have been using my own deodorants at least for two years now and have shared several tutorials on this blog:
This product however is inspired by Juliette from France and a couple of our customers (my shame that I can not remember who asked me about this) who asked whether we can prepare the deodorant stick as a "deodorant bar" to avoid packaging.
To be honest, I was very sceptical at the beginning and prepared this product just out of curiosity or formulator's ambitious but I'm using it since almost a week and I really like it. I've put the bar in a cream jar to protect it against dust and humidity and it couldn't be considered absolutely package-free if you ask me. However, the cream jar or whatever container you use to keep the product could be used over and over and is not discarded like millions of deodorant bottles and sticks and tubes.
Anyway, if you're interested and want to give it a go and step into a very popular and contagious trend of "avoiding packaging" follow this tutorial and add your personal touch to it.
I have used an acrylic soap mould and a deodorant tube as my mould for these bars. The deodorant tube can be used over and over again. You use it as a mould just to pour the melted deodorant and then you remove the deodorant from the tube after it has hardened in the fridge and reuse the tube for the next batch.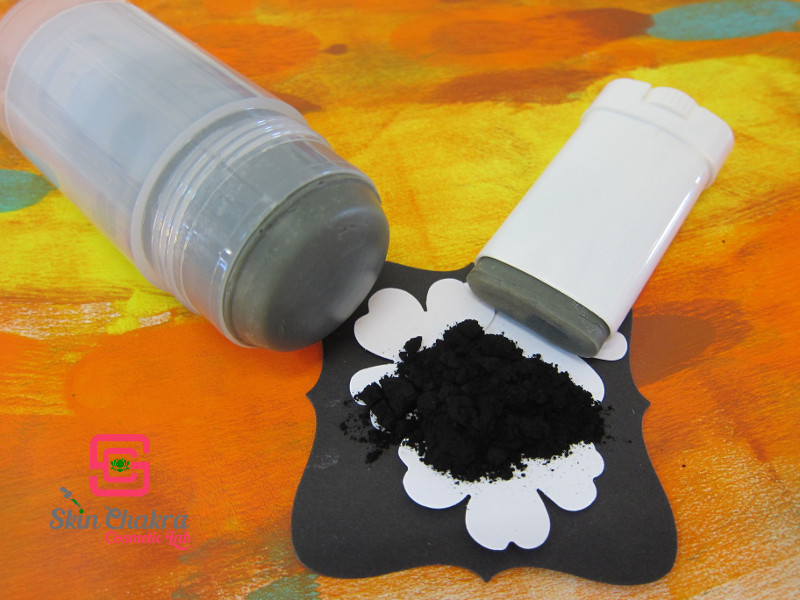 You can practically use any soap or cookie mould as well and create cute shapes but need to keep in mind that the product should:
1- be smooth and easy to apply, a mould with many edges and bumps is not quite practical and easy to use
2- Be relatively small to be used within a short time, otherwise the risk of contamination is not ignorable (specially in regions with a high relative humidity)
3- Adapt the product to the temperature and moisture in the region you use or sell the product. It should be hard and firm enough to keep its form as you apply it (harder than the usual body melts or lotion bars) but it should glide smoothly over the skin
Let's jump to the formulation and procedure:
Ingredients:
| | |
| --- | --- |
| Phase A | |
| Myrica fruit wax | 19,0% |
| Rice bran wax | 8,0% |
| Berry wax | 6,0% |
| Cupuacu butter | 5,0% |
| Green tea wax | 1,0% |
| Glyceryl caprylate | 0,5% |
| Phase B | |
| Plant based pentylene glycol | 3,5% |
| Ascorbyl palmitate | 0,3% |
| Phase C | |
| Babassu oil | 9,0% |
| Calendula CO2 extract | 0,1% |
| Phase D | |
| Triethylcitrate TEC eco | 5,0% |
| Deodorant active decalact deo | 1,0% |
| Olive squalane | 3,0% |
| Tocopherol | 0,5% |
| alpha-bisabolol | 0,2% |
| Phase E | |
| Lexfeel Natural | 10,0% |
| Cetiol ultimate | 5,0% |
| Modified rice starch | 12,0% |
| Zeolite | 4,0% |
| Brazilian white clay | 5,0% |
| Allantoin | 1,0% |
| Phase F | |
| Curcuma xanthorrhiza CO2 extract | 0,1% |
| Rosemary CO2 extract | 0,1% |
| Sage CO2 extract | 0,1% |
| Ajowan CO2 extract | 0,1% |
| Echinacea CO2 extract | 0,1% |
| Manuka oil | 0,1% |
| Wintergreen oil | 0,1% |
| Lavender oil | 0,1% |
| Peppermint oil | 0,1% |
Before we start:
You may notice that I have used pentylene glycol (which is a water soluble ingredient) in this formulation and have added ascorbyl palmitate to it. I haven't lost my mind
This is a trick I learned from an amazing formulator @InCos in Paris. Those of you who have worked with ascorbyl palmitate (which is an ester of vit C) know what a pain it is to incorporate it in your formulations. You can heat it and heat it with your butter/wax phase @ 80-85 oC and wait till is melted-dissolves.
By blending it with the pentylene glycol (@RT), you can add it to your melted wax/butter phase and it blends like a charm. Keep in mind that this trick does not work with lower glycols such as propylene glycol because they are less lipophilic than pentylene glycol. Anyway, if you don't like to try this trick (which I doubt), go ahead and use the conventional method of adding the AP to phase A and heat phase A until all AP is melted (takes much longer than without AP). If you are ready and curious to try this method, jump into the procedure.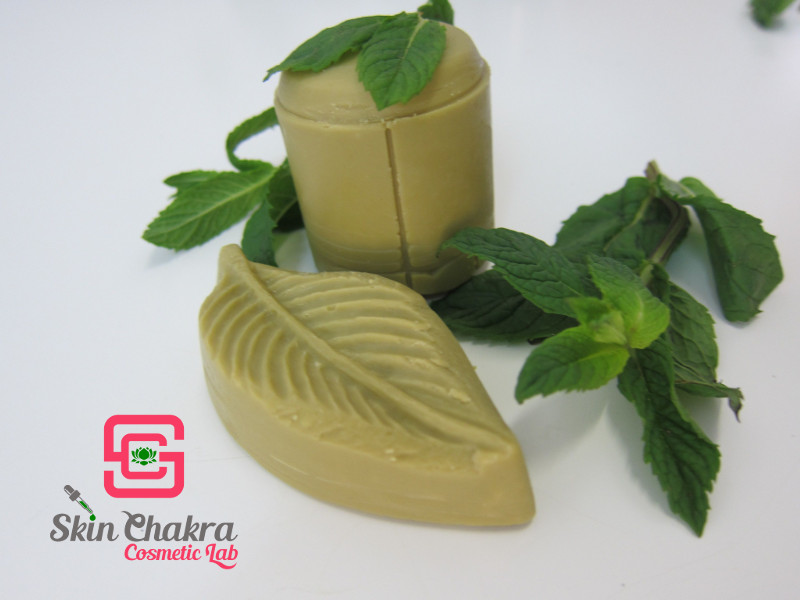 Procedure:
1- Weight each phase separately in a beaker.
2- Heat phase A in a water bath at aroun 75-80 oC. This is the temperature for melting rice wax which has a higher melting point than berry, myrica or tea wax. But if you let AP in the pentylene glycol phase, melting rice wax doesn't take long.
3-Babassu oil and calendula extract become solid in winter and semi liquid to liquid in summer. If you're working in a cold lab and they are solid or semi-solid heat phase C gently in a water bath @ ca. 30 oC until they melt. If you are working in a warm lab and they are liquid avoid this step.
4- After phase A is melted stop heating but do not remove the beaker from the bath. Add phase B and melted phase C and blend.
5- Add phase D and blend.
6- The powders in phase E do not dissolve in lexfeel natural or cetiol ultimate. You need to stir this phase to keep them suspended. Now add phase E to the rest of the blend.
7- Add phase F and immediately pour into stick moulds or your desired soap moulds.
8- Put the moulds in the fridge for at least 12 hours (we let them stay overnight).
9- Remove from the fridge and remove from the mould.
10- Wrap in wax paper or tissue paper or put them in suitable jars to protect them against humidity and dust.
11- Enjoy using this natural and mild deodorant
BeHappy and have fun
Comments
Display comments as (
Linear
| Threaded)
The author does not allow comments to this entry