Saturday, 2. November 2019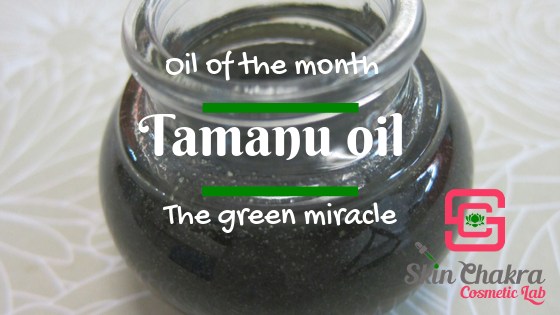 Tamanu oil
is our oil of the month in November 2019. This means, through the whole month of November we have a special discount for this oil.
Read about our previous oils of the month if you have missed the blog posts:
The plant
The tree is native to tropical Asia but grows in Melanesia and Polynesia. It was brought to Hawaii from the south Pacific islands.
The tree grows near the sea coast in India. Its seeds survive saline and muddy soils.
Tamanu is called differently in different regions and cultures but it is praised overall for its beautiful flowers.
Tamanu tree grows to 2-3 m high and has a thick and cracked bark. The leaves are elliptical, shiny and rather thick. The flowers have a sweet scent. The fruits are spherical. The kernels contain around 75% oil.
Common names:
Alexandrian laurel, Tamanu, Pannay. Kamani, Bitaog, Undi...
Folklore and traditional uses:
Tamanu was considered a sacred tree in the Polynesian culture. It was planted inside the temples and idols were carved from the wood.
The bark, seeds, oil, resin and a gum are used. In the old days a dye was made from the fruit extract.
The gum is purgative but is used for wound healing as well. The leaves are infused in water and the oil that rises to the surface is used to comfort eyes.
The bark is astringent. It is used for various purposes from passing of blood after child birth to curse some gonorrhoea. It is used against internal bleeding and to cure wounds and ulcers. Even a decoction of the roots is used to cure wounds.
The flowers are used to make ornamental wreaths. The oil was used as a lamp oil, as a varnish and to waterproof textile.
The oil:
Ripe fruits are crushed to crack the shell (but not the kernel). The kernels are then removed and dried. The oil is pressed from the dried kernels.
INCI: CALOPHYLLUM TACAMAHACA SEED OIL or CALOPHYLLUM INOPHYLLUM SEED OIL
CAS# 223748-12-7
Saponification value : 185 - 235 mg KOH/g
Iodine value: 99-108
The oil has a beautiful dark green colour with a not-everybody's-favourite scent.
It is not only quite miraculous in folklore and traditinal applications, it has even convinced snob scientists in several in-vivo studies.
It is used for:
treatment of rheumatism
treatment of itch and scabies
gout
Joint pains
arthritis
bruises
diaper rash
cure chapped lips
leprosy (ancient treatment)
wound/ulcer healing
chemical, physical and sun burn
radiodermatitis
postsurgical wounds/ cicatrization
acne
psoriasis
herpes
diabetic sores
hair loss
Oil composition:
The oil has quite an extraordinary composition. Apart from triglycerides, it contains sterols, phospholipids, glycolipids and coumarins.
The magic and uniqueness of tamanu oil is not because of the fatty acid composition, it's because of the non-saponifiables and active ingredients: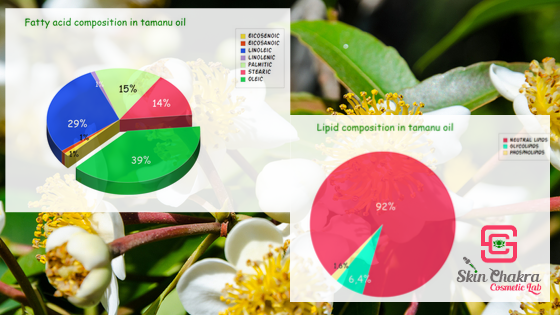 Sterols (about 3,5% of neutral lipids)

Triterpenes: (with anti-inflammatory, antipyretic, antibacterial, antifungal and analgesic properties)
Friedeline (this is an active ingredient found in cannabis as well it has antibacterial activity against S. aureus and antifungal activity against Pseudallescheria boydii)
Canophyllal
Canophyllol (comparable activity to ampicillin and amoxicillin against Staphylococcus aureus)
Canophyllic acid (has performed antibacterial activitiy comparable to ampicillin and amoxicillin in clinical studies)
Xanthones and steroids (anti-inflammatory properties, antioxidant properties)
Calophylline B
Mesauxanthone
Jacareubine
Desoxy-6 jacareubine
Dimethylallyltetrahydroxy Xanthone
Coumarins (antibacterial, anti-inflammatory and antioxidant properties)
Calophylloide (antibacterial and anti-inflammatory properties)
Inophylloide (anti-viral properties)
Calophyllic acid (healing and anti-parasitic properties)
Tometolide A
Desoxo-12-hydroxy-12 inophylloide
Apetalolide
Calaustraline
Calafloride
Inophyllic acid
Calophenic acid
Inophenic acid
Inophylloidic acid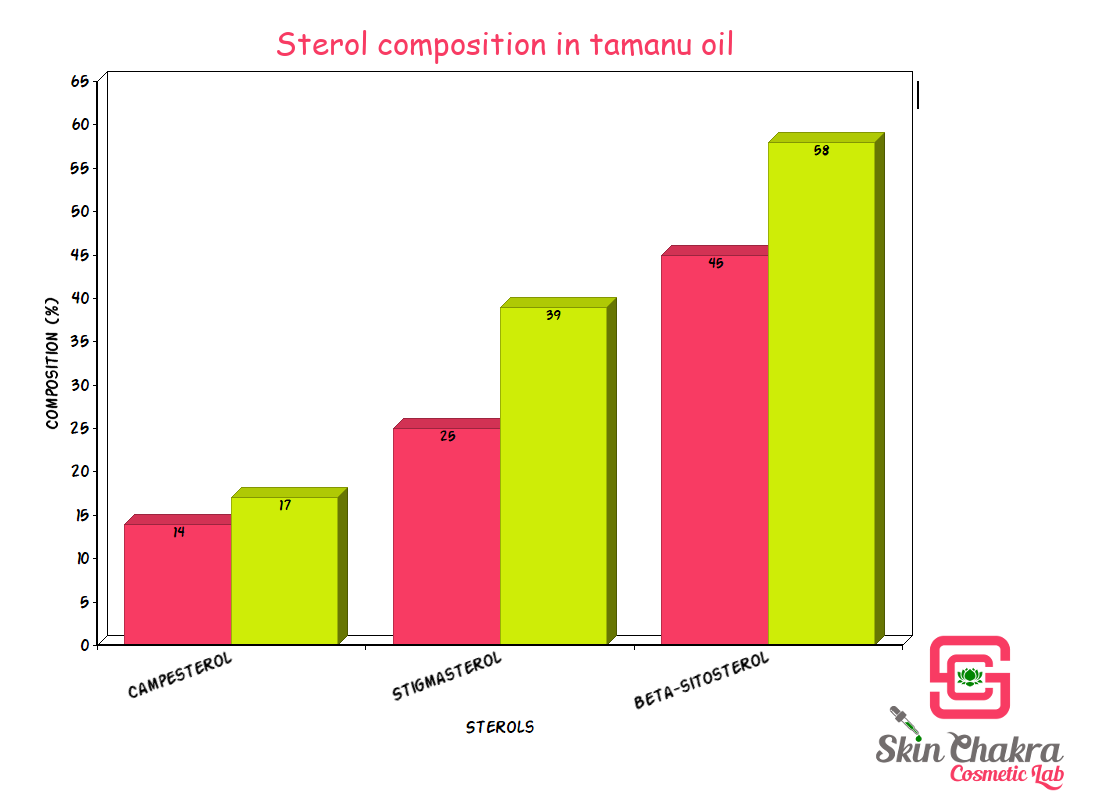 Applications:
Tamanu oil is not only a traditional first-aid remedy (applied undiluted over the skin), it is used in skincare for its various properties.
How to use:
The oil performs anti-oxidant properties against lipid peroxidation and has a relatively low iodine value. However due to the high content of all those amazing unsaponifiables and active ingredients, you shall avoid heating at a high temperature for a long period.
In winter, the resins solidify. You need to gently heat the oil to around 25 degrees to bring it to a unifirm liquid before application.
Tamanu oil has a rather overpowering scent and a rich skin feel. Use it with moderation to achieve nice and pleasant sensory and olfactory properties while profiting from its extraordinary active ingredients.
Further reading and references:
Dweck, A. C., and T. Meadows. "Tamanu (Calophyllum inophyllum)-The African, Asian, Polynesian and Pacific Panacea." International journal of cosmetic science 24.6 (2002): 341-348.
Nguyen, Van-Linh, et al. "Anti-inflammatory and wound healing activities of calophyllolide isolated from Calophyllum inophyllum Linn." PloS one 12.10 (2017): e0185674.
Kilham, Chris. "Tamanu oil: a tropical topical remedy." HerbalGram (2004).
BeHappy and have fun
Comments
Display comments as (
Linear
| Threaded)
The author does not allow comments to this entry